Rich Pellegrin – Passage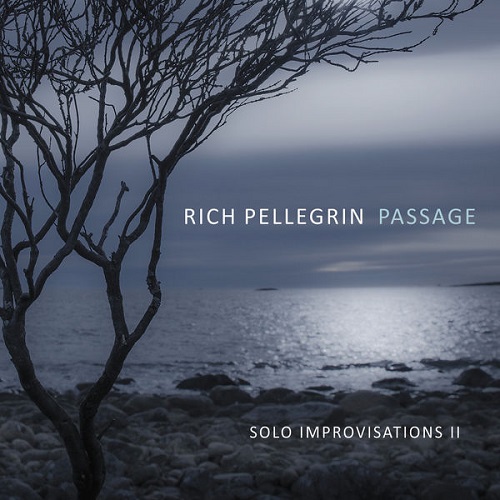 R
OA2 Records
This is Rich Pellegrin's second album of solo free improvisations; "Solitude" was one of my favourite releases of 2021. Pellegrin is a pianist, composer, writer and professor of music at the University of Florida. His previous recordings include albums with his Seattle based quartet, playing his own material. He has published writings on Thelonious Monk, John Coltrane, Brad Mehldau, Robert Glasper and Bill Evans.
The new album was recorded at the same sessions as "Solitude" and the sound is again vivid and intimate, highlighting the character of the Everett Concert Grand - a warm and sustained sound with a few interesting quirks. Most of the pieces are played quietly with a delicacy of touch and plenty of contrast in density. On track 20 there is a surprise and effective use of extended technique; the track is mainly mechanical noises. Recorded at Whidbey Island's Langley Methodist Church, near Seattle, Pellegrin captures the spirit of place, exploring the wide-open spaces of the mind and reconnecting with water and forest.
There are 30 short improvisations this time, ranging from 34 seconds to 4.10 minutes in length. Despite this brevity there is plenty of space in the music. Yes, the pieces are miniatures but the album as a whole has a cinematic sweep. There are moments of melody, impressionism, counterpoint and syncopation but what it shares with most free jazz is a lack of repetition; it's almost the opposite of Reich style minimalism. 
Pellegrin describes the music as moodier this time, curated into a narrative structure over three sets of pieces. "Passage" may suggest a narrow route through difficult terrain, a rite of passage, the passage of time, or passing on. The music never sounds difficult but it's certainly challenging to create music which so rigorously avoids cliches or obvious structural devices. The harmonies are largely diatonic with interesting modal shifts but few uses of conventional cadences, diminished chords, long pedal points or jazz idioms. Skilled use of sustain or sostenuto pedal often leaves discordant resonances which reminded me of Takemitsu or Ligeti's "Etudes".
The level of imagination is always high and this is cool, calm music; it makes Keith Jarrett's solo improvisations sound positively melodramatic! There are echoes of Harold Budd in the sound but the harmonies are much more restless.
This album is every bit as good as "Solitude" and displays a very special musical vision. It gets close to the jazz ideal of composing in real time yet keeping the immediacy of free improvisation.
I'd recommend you listen at 'Improvisation VII':



You can find out more at www.richpellegrin.com
The album is available for purchase at most online stores but the best way to support musicians is to buy straight from the label: click HERE.

© Stephen Godsall