Rhoda Scott Lady Quartet - We Free Queens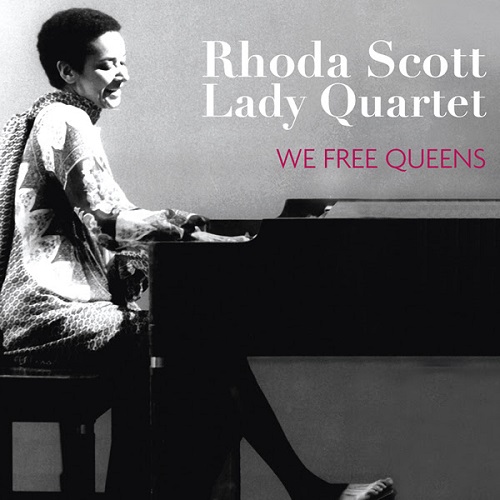 R
Sunset Records - L'Autre Distribution
Fille d'un pasteur méthodiste, Rhoda Scott a appris à jouer de l'orgue à l'église dans son New Jersey natal, ce qui explique sa passion pour le gospel. Diplômée de la Manhattan School of Music, elle a joué avec Ella Fitzgerald, Ray Charles, George Benson et a été engagée par Count Basie pour jouer dans son club à Harlem. Fin des années '60, the Barefoot Lady s'installe en France. Aussi à l'aise dans le jazz que dans le répertoire classique, elle a rejoint le Conservatoire de Fontainebleau, auprès de Nadia Boulanger.
Sa discographie est impressionnante, de ce Come Bach to me, enregistré avec Félix Simtaine en 1970 à Rock my boat avec David Linx et André Ceccarelli, en passant par Jazz in Paris avec Kenny Clarke, In New York avec Thad Jones ou Soul Sisters avec la chanteuse La Velle.
En 2004, pour le festival de Vienne, elle forme un quartet entièrement féminin, avec Airelle Besson (tp), Julie Saury (dm) et Sophie Alour, saxophoniste ténor qu'on a entendue en compagnie de Stéphane Belmondo ou Christophe Dal Sasso et qui a gravé, à son nom, les albums Insulaire et La géographie des rêves. C'est au Sunset que ce Lady Quartet prend sa forme définitive: la saxophoniste alto Lisa Cat-Berro, élève du Conservatoire de Paris qui a gravé l'album Inside Air, succède à Airelle Besson.
Après Live at the Sunset de 2008, voici We Free Queens, avec trois invités: la saxophoniste alto Géraldine Laurent, le trompettiste Julien Alour et la percussionniste Anne Paceo.
Au répertoire, 5 compositions originales: deux de Lisa Cat-Berro (We Free queens, Rhoda's delight), deux de Sophie Alour (I wanna move, Joke) et une de Rhoda Scott (Valse à Charlotte), auxquelles viennent s'ajouter une version très personnelle de Que reste-t-il de nos amours de Trenet, One by one de Wayne Shorter et le légendaire What I'd say de Ray Charles, un autre maître de l'orgue Hammond (l'excellent album Genius + Soul, enregistré avec un big band emmené par Clark Terry, sur des arrangements de Quincy Jones).
Si l'on excepte la très langoureuse ballade de Trenet emmenée par le ténor de Sophie Alour, les autres plages baignent dans un groove d'enfer, assuré par l'orgue Hammond aux couleurs flamboyantes, un swing survitaminé qui met en valeur les saxophones de Lisa Cat-Berro et Sophie Alour mais aussi l'alto volubile de Géraldine Laurent (We Free Queens, I wanna move, Joke et What I'd say) ou la trompette de Julien Alour (One by one, What I'd Say). Ce What I'd say final de Ray Charles est de ce point de vue exemplaire avec une véritable sax battle entre ténor rageur et alto incisif.
Ce We Free Queens est une percutante réponse au We Free Kings de Roland Kirk.

Claude Loxhay