Reis / Demuth / Wiltgen – Sly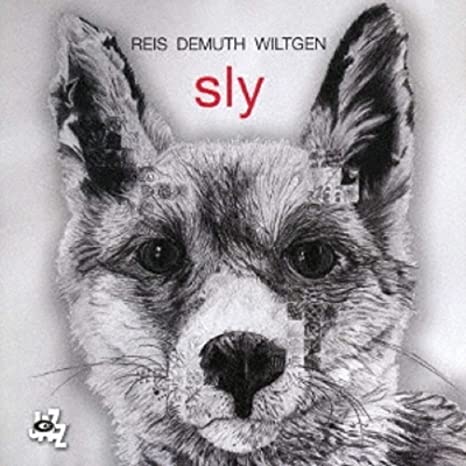 R
Cam Jazz
Een jaar of drie geleden ontmoette ik Ermanno Basso, eigenaar van het label CamJazz, op het befaamde Jazzahead-festival te Bremen. Hij had samen met zijn Italiaanse concurrent Marco Valente (Auand) een workshop georganiseerd met als thema de verdeeldheid onder de Europese, met name Italiaanse, labels. Er werd gepleit voor meer samenwerking. De muziekindustrie had het ook toen al zwaar en concurrentie zou de belangen van de musici meer kwaad dan goed doen. Basso wist waar hij het over had, want hij kende/kent de internationale muziekmarkt. Wat ik toen niet wist, was dat hij een Luxemburgs trio aan zich had verbonden.
De Luxemburgse pianist Michel Reis, bassist Marc Demuth en drummer Paul Wiltgen ontmoetten elkaar op school en hebben in 1998 een trio opgericht. In 2011 kwamen ze opnieuw bijeen om muzikale ideeën en composities uit te wisselen. Hun debuutalbum verscheen twee jaar later. Vanaf dat moment stonden ze op het podium van internationale jazzfestivals en brachten ze nog twee albums uit. In dezelfde periode dat Reis werkte aan zijn solo-album Short Stories (lees de Jazz'halo recensie HIER) heeft het trio SLY opgenomen.
Het 55 minuten durende album bestaat uit dertien nummers die in het teken staan van de vos, het nationale symbool van Luxemburg.
Het album brengt veel van Reis zoals we hem kennen van zijn solo-debuutalbum. Maar hij wordt nu opgezweept door de pittige tempo's van zijn schoolvrienden. Vijf van de composities zijn van de hand van de slagwerker. Het zijn uitgesproken composities waarin in hoog tempo verschillende landschappen voorbij komen. De meeste ballads zijn van de hand van Reis.
De Cam Jazz-cd's werden in het verleden regelmatig voorzien van treffende teksten van de Britse schrijver Brian Morton. Helaas is het Basso niet gelukt Morton voor deze cd te strikken. De uitgever en voormalige co-auteur van The Penguin Guide To Jazz on CD had mogelijk andere verplichtingen. Als hij een bijdrage had kunnen leveren had hij zich waarschijnlijk lovend uitgelaten over het album en er was ongetwijfeld een prachtige quote uitgerold die op de achterkant kon worden gedrukt.
Bij afwezigheid van de Morton-quote laat ik er de mijne op los: "Reis Demuth en Wiltgen. Een hecht trio dat zich door de jaren heen muzikaal heeft ontwikkeld langs de lijnen van een langdurige vriendschap. Een vriendschap die wordt gekenmerkt door een diepe genegenheid, maar bovenal door een grote bewondering voor elkaars kwaliteiten."
Een aangenaam uurtje pianotriomuziek van de bovenste plank.
© Robin Arends




Tracklist:

1. Snowdrop
2. No Storm Lasts Forever
3. If You Remember Me
4. Fantastic Mr. Fox
5. Silhouettes on the Kuranda
6. Viral
7. Diary of an Unfettered Mind
8. Let Me Sing for You
9. Venerdi Al Bacio
10. Nanaimo
11. The Last We Spoke
12. The Rebellion
13. Home Is Nearby

Musici:
Michel Reis- piano
Marc Demuth- bas
Paul Wiltgen- drums

Geproduceerd door Ermanno Bosso
Opgenomen en gemixt, mei 2019 in de Artesuono Recording Studio
Opnames en mix door Stefano Amerio
Master door Danilo Rossi

www.camjazz.com
www.reisdemuthwiltgen.com