Reggie Washington, Rainbow Shadow vol.2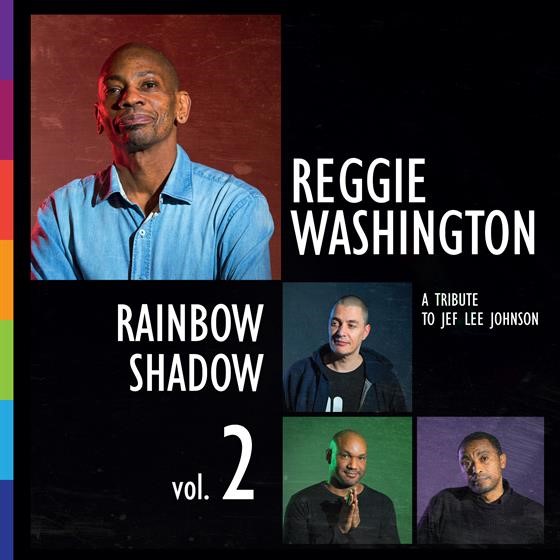 R
JAMMIN'COLORS
A Tribute to Jef Lee Johnson
On ne peut que remercier Reggie Washington de sortir à une deuxième reprise Jef Lee Johnson de l'ombre dont il n'était plus sorti depuis son départ en 2013. Guitariste fabuleux, sideman très demandé par les plus grands: de Aretha Franklin à Ronald Shannon Jackson en passant par Marcus Miller, Stanley Clarke ou Leon Russell… 
L'album s'ouvre sur le vibrant Silence (No Secret) chanté par Monique Harcum avec des accents Hendrixiens. Reprise de The Zimmerman Shadow, Blind Willie McTell rappelle de sublime façon l'album que Jef Lee Johnson a intégralement consacré à Bob Dylan : intro profonde de la basse, superbe solo de Marvin Sewell sur un lancinant accompagnement de batterie de Patrick Dorcean et la ligne de basse claire et précise de Washington, un régal !
Le jeu en «slap bass» de l'intro de Hype vaut son pesant de swing. Avec Marvin Sewell, Patrick Dorcéan, DJ Grazzhoppa comme solide fondement à l'album, Reggie Washington invite quelques musiciens complémentaires comme Hervé Samb sur Cake, les guitaristes Jimi Hazel et Ronny Drayton sur Sizzlean et le saxophoniste John Massa sur les deux parties de Hype.
Reggie joue en solo « multi-basses » sa composition personnelle Other Thoughts of Fanny's Toy et offre l'avant-dernière plage à son guitariste Marvin Sewell sur Emmitt Till, un petit bijou au bout des doigts du guitariste attitré de Cassandra Wilson.
Tout dans cet album respire la sincérité, le respect et l'amour d'un musicien trop tôt disparu. Une vraie réussite qui, à mon sens, surpasse encore l'excellent premier volume de « Rainbow Shadow ».

© Jean-Pierre Goffin
Article publié par jazzaroundmag.com