Reeds & Deeds - Live at JazzCase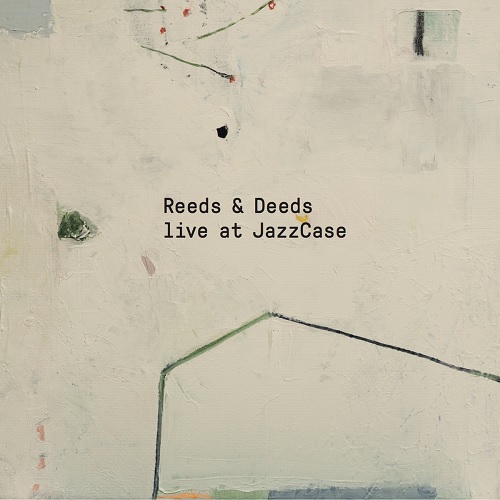 R
El Negocito
Les fidèles de Jazz!Brugge se souviennent certainement du pianiste Michiel Braam et de son Bik Bent Braam, un orchestre de 13 joyeux lurons, comme en ont le secret les Hollandais: pensez au Willem Breuker Kollektief.
On a pu entendre le pianiste en solo (Gloomy Sunday), en trio avec Wilbert De Joode (cb) et Michael Vatcher (dm) pour Monk Materials, au sein du sextet All ears, avec Frans Vermeerssen (ts) et Herb Robertson (tp). En 1995, il montrait déjà sa passion pour Roland Kirk avec One for Rahsaan et il récidivait, en 2016, en formant le sextet Reeds and Deeds, titre d'un album de Kirk datant de 1963.
Trois multi-anchistes et une rythmique solide constituent ce sextet plein de vie.
Au ténor et soprano, Frans Vermeerssen, formé aux Conservatoires de Groningen et Amsterdam: il a fait partie de Tam Tam Fanfare, du Contraband de Willem Van Manen (tb), du Willem Breuker Kollektief et était déjà présent pour One for Rahsaan.
Au ténor, alto et soprano, Bo van de Graaf qui a fait partie du Bik Bent Braam comme de I Compani (Ecco, musique de Nino Rota). En 2015, il a recroisé Michiel Braam pour Olanda Due.
Au ténor, à la flûte et au piccolo, Alex Coke. Né à Dallas, il est arrivé à Amsterdam en 1992. Il a fait partie du Kollektief de Willem Breuker et a retrouvé celui-ci, avec le trompettiste Erik Vloeimans, pour The Compositions of Eric Dolphy.
A la contrebasse, Arjen Gorter, membre permanent du Willem Breuker Kollektief. Il a aussi croisé Roswell Rudd, Misha Mengelberg, Steve Lacy, Han Bennink ou Lee Konitz.
A la batterie, Makki van Engelen qui a fait partie de I Compani et a joué avec Anton Goudsmit, le guitariste d'Erik Vloeimans.



Au répertoire, neuf compositions de Roland Kirk: Three for the festival, un des classiques de We free Kings de 1962, comme The haunted melody; Gifts and messages et Vertigo Ro d'un album de 64; The inflated tears et A laugh for Rory d'un album de 68; Bright Moments de 73, Silverization et puis Steppin' into Beauty de 77.
Pour restituer la polyphonie de Kirk (ténor, stritch et manzelo, auxquels se joignent flûte et sirène), nos Hollandais espiègles alignent trois ténors  de front (Gifts and messages ou Silverization), ténor et soprano (Three for the festival, The inflated tears), alto et piccolo (A laugh for Rory) ou flûte (Steppin' into beauty, Bright moments).
Des ballades (Steppin' into beauty) alternent avec des atmosphères bluesy (Gifts and messages) ou des tempos échevelés (Vertigo Ro avec ténor à la sonorité éraillée), avec piano stride (The haunted melody) ou déluges de notes (A laugh for Rory).
Une belle manière de célébrer cette musique intemporelle: un coup de vent free dans une époque tiède.
© Claude Loxhay