Rebirth::Collective: Witchcraft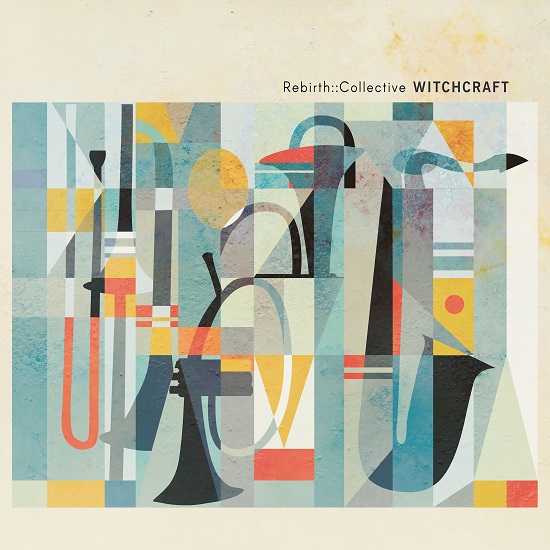 R
SoulFactory
Voici le troisième album de cet ensemble dirigé par le tromboniste Dree Peremans, après un premier simplement intitulé Rebirth::Collective en 2013 et Raincheck en 2016.
Au niveau du line up, une modification par rapport aux précédents albums: ici, un seul trompettiste au lieu de deux.
Ainsi, au sein de l'actuel octet, on retrouve Dree Peremans, membre du Vansina Orchestra, du Tuesday Night Orchestra et de Gumbo d'Yves Peeters.
A la trompette, Jo Hermans qu'on a entendu aux côtés de Jef Neve (Sons of the new world) et de l'accordéoniste Anne Niepold.
En front line, trois saxophonistes: à l'alto, ténor, soprano et clarinette, Bruno Vansina, membre du Flat Earth Society, mais aussi leader de son propre quartet avec Bert Cools à la guitare ou de son Vansina Orchestra; au ténor et à la clarinette, Wietse Meys, membre du Vansina Orchestra comme du Tuesday Night Orchestra; au saxophone baryton et à la clarinette basse, Joppe Bestevaar qui a étudié au Lemmens Instituut avec Frank Vaganée.
Au piano, Ewout Pierreux qui a enregistré plusieurs albums avec Tutu Puoane, sa compagne, et a un quintet avec Bruno Vansina et Jean-Paul Estiévenart.
Enfin, on retrouve la rythmique du BJO, soit Jos Machtel à la contrebasse (il a aussi enregistré avec Bram De Looze) et Toni Vitacolonna à la batterie (membre aussi du groupe DelVita avec Peter et Steven Delannoye).
Au répertoire, deux compositons originales du leader, écrites dans l'esprit des grands classiques (Corn'n Oil, Bite the Bullet), des standards (Just one of those things, Witchcraft, Spring can really hang you the most) et de grands classiques (Cherokee de Ray Noble, Au Privave de Charlie Parker, Waltz for Debby de Bill Evans et March Majestic du saxophoniste Bob Mintzer).
Une constante: faire renaître les ensemble swing des années'50.
Pour cela, Dree Peremans peut compter sur une formation soudée par différentes inter-connections (Tuesday Night Orchestra, Vansina Orchestra) mais aussi sur des solistes inspirés (envolées de l'alto sur Au Privave, Just one of those things, Waltz for Debby, du ténor sur Bite the Bullet ou Cherokee, du baryton sur Cherokee, de la trompette sur Au Privave et trompette bouchée sur Witchcraft, du trombone sur Au Privave et Spring can really hang you). Enfin, sur une rythmique sans faille (pulsion inextinguible de Vitacolonna à la batterie (solo sur Bite the Bullet), sonorité ronde de la contrebasse (solo sur Corn'n oil) et envolée du piano (solo sur Witchcraft et Au Privave, belles intros pour Just one of those things, Waltz for Debby).
Sur tempo swing comme dans les ballades, la cohésion de l'octet est parfaite.
Claude Loxhay