Randi Pontoppidan / Thomas Buckner - Voicescapes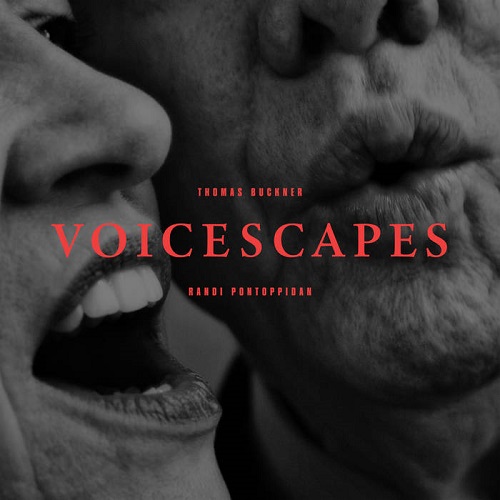 R
Chant Records
Randi Pontoppidan und Thomas Buckner begannen mit ihrem experimentellen Gesangduo vor einigen Jahren. Spontanität steht im Vordergrund bei den beiden Vokalisten, die auf vorgefertiges musikalisches Material, Overdubs und andere Klangformen als die ihrer Stimmen verzichten.
Über Randi Pontoppidan lesen wir im sogenannten Waschzettel: "Randi Pontoppidan is an internationally acclaimed Danish vocalist, improviser and composer working with free improvisation, jazz, performance art, electroacoustic composition and sound poetry. She creates vast sonic landscapes full of organic warmth and poetic sensibility and is known for her extended vocal techniques, often mixed with live electronic processing. She works with jazz luminaries including Greg Cohen, Joëlle Léandre, Sissel Vera Pettersen and with Danish poet Morten Søndergaard. Pontoppidan is also an in-demand vocalist in the contemporary classical world, working with Paul Hillier's Theatre of Voices and performing works by Steve Reich, David Lang, Karlheinz Stockhausen, John Cage and others. Pontoppidan was a nominee for the 2020 Steppeulven award for best vocalist in Denmark." Ähnlich gelagert wie bei Randi Pontoppidan sind die musikalischen Gewichtungen bei Thomas Buckner, der sich seit fünf Jahrzehnten der improvisierten Musik verschrieben hat.  Zu den kongenialen Partnern des Vokalisten zählen der Komponist Roscoe Mitchell, der "Impressario" Robert Ashley  Annea Lockwood, Alvin Lucier,  Wadada Leo Smith, Muhal Richard Abrams, Bun Ching Lam, Petr Kotik, Christian Wolff, Earl Howard, Matthias Kaul und viele andere.
"Greetings", "Floating", "Sustaining", "Blessing", "Longing" – so lauten einige der vokalen Stücke, die zu hören sind. Atemfluss, der wie das Geräusch einer Windmaschine klingt, trifft auf Gewisper, auf Geflüster, auf eine Stimme, die quietscht und sich überschlägt, auf einen nervösen Stimmfluss, der durch Ahaha und ähnlichen Lautfetzen fragmentiert wird. Aufgeregt klingt, was wir erleben. Lange Klangwellen sind nicht auszumachen. Nahtlos gehen "Greetings", die zuvor beschrieben sind, in "Balancing" über. Lange Atemschwaden, die an Besengewische auf Trommelfellen denken lässt, vereint sich mit verhaltenem Obertonsingen aus dem Off. Vibrationen tauchen auf, ebenso wellig angelegte Stimmpassagen. Lautmalerisches verschränkt sich mit scharfen Stimmimpulsen mit Hahahauhau und Tschschtschsch. Röcheln taucht kurzzeitig auf und eine sich überschlagende Stimme, die sich beinahe wehklagend gibt. Zwischen Kopf- und Bruststimme ist der "Wechselgesang" anzusiedeln. Dazu hören wir ein weiches Nanana zu einem Huhuhuhu, Weibliches wird mit Männlichem konfrontiert. Mehr Sprechlaute sind in "Sustaining" auszumachen. Diese vereinen sich die mit Nininin und gebrochenenem Stöhnen und Husten sowie Gutturalem. Gesprochenes wird mit einer "melodischen Stimme" verbunden. Irgendwie muss man beim Zuhören an Dada denken oder auch an Jandl. Das Wort ist unwesentlich, der Laut ist wesentlich. Da zischt, schnarrt und schnurrt es. Stets wird auch auf Obertonsingen zurückgegriffen, und so nimmt das Stück seinen Fortgang. Das gilt auch für "Floating", das auch rinnendes und plätscherndes Wasser präsentiert – alles eine Frage der stimmlichen Ausformung. Eruptiv geht es in "Let it out" zu. Beim Hören meint man gar, man sei auf einer Tierfarm zugegen und erlebe dort das Geschnatter, Gewiehere, Grunzen, Röhren und Pfeifen. Zum Schluss dann heißt es "Blessing" und erstmals hat man auch den Eindruck, dass nicht Lautfragmente, sondern melodischer Fluss im Fokus stehen. Und damit endet dann das Stimmdada zweier Vokalisten.
© ferdinand dupuis-panther

Information
Chant Records https://chantrecords.com/releases/randi-pontoppidan-thomas-buckner-voicescapes/
Bandcamp https://randipontoppidan.bandcamp.com/album/voicescapes
Soundcloud https://soundcloud.com/chantrecords/sets/randi-pontoppidan-thomas-buckner-voicescapes
Spotify https://open.spotify.com/album/5O6xPUMV2doMPSF6WBKM9D?si=INtg8XXNRG2UM-55v6QJzw