Ran Blake/Claire Ritter - Eclipse Orange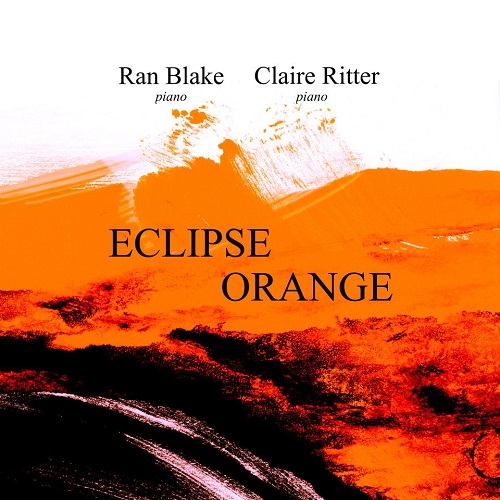 R
Zoning Recordings
Deze live-opnames door het pianoduo Ran Blake en Claire Ritter aan de Queens Universiteit vonden gepast plaats in oktober 2017 in North Carolina waar Monk 100 jaar voordien werd geboren.
Bovendien komt Claire Ritter (66) uit dezelfde staat en is ze evenals Ran Blake (84) beïnvloed door Monk. Ze leerde Blake kennen toen ze aan het New England Conservatory in Boston studeerde en met hem op de faculteit Contemporary Improvisation (de vroegere door Gunther Schuller opgerichte Third Stream afdeling) les gaf. Blake was gast op haar debuutalbum In Between, waarvan in dit album de titelsong, ook binnen een medley (The Ritter Story: Eclipse Orange/Waltzing The Splendor/In Between) wordt hernomen.
Ritter tekent nog voor liefst 10 eigen nummers, met een duidelijke knipoog naar Monk, aangevuld door Blake's improvisaties met o.a. Short Life of Barbara Monk en verder de onvermijdelijke Monk klassiekers (Blue Monk, I Mean You) en enkele standards.
Ritter en Blake putten ook inspiratie uit schilderkunst. 'I think of paintings as windows of the soul', haalt Ritter aan.
Dit intrigerend pianospel van twee verwante en toch uitgesproken eigengereide persoonlijkheden is misschien nog het best te vergelijken en te vatten binnen de muzikale exploratie van kleuren zoals we die kennen van Mark Rothko en zijn stilte van het licht. De ontroering die het opwekt laat zich moeilijk doorgronden. Zo ook verheugen we ons bij de muzikale werelden die Ran Blake voor ons opent.
© Bernard Lefèvre




Musici:
Ran Blake (piano)
Claire Ritter (piano)
Gast: Kent O'Doherty (sax)