Rajiv Jayaweera – Pistils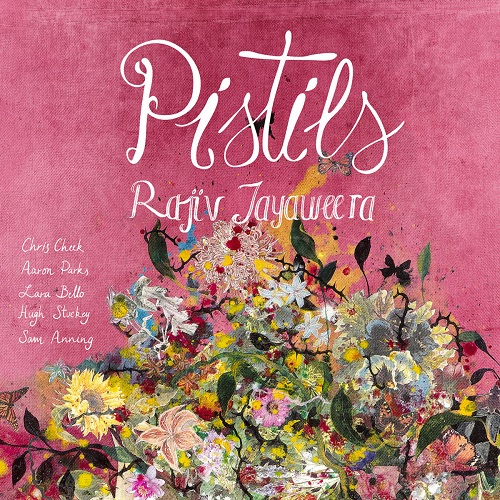 R
Outside in Music
De snelste muzikale connectie tussen New York en Zuid-Azië met tussenstop in Australië verloopt tegenwoordig via drummer en percussionist Rajiv Jayaweera. Samen met onder meer Aaron Parks en Chris Cheek zorgt hij onderweg voor een vipbehandeling.
Momenteel gaat het er allemaal minder bruisend aan toe dan een aantal maanden geleden maar in het pre-coronatijdperk was de aantrekkingskracht van New York als jazzhub onbetwist. Ook Rajiv Jayaweera kon niet aan de verleiding weerstaan. Geboren in Londen, opgegroeid in Melbourne en nu dus inwoner van The Big Apple.
'Pistils' is zijn debuut. Jayaweera laat de New Yorkse invloeden bezinken maar vergeet zijn Sri Lankaanse roots niet. Die bonte mengeling verwerkt hij in de acht composities die hij pende voor dit album. Hij haalde er Chris Cheek, Aaron Parks, Hugh Stuckey, Sam Anning en Lara Bello bij om alles vakkundig uit te werken. Het werd gelukkig geen nietszeggende fusion of crossover. Alle klassieke basiselementen uit de westerse jazz zitten vernuftig verweven in de nummers. De Aziatische invloeden blijven uiterst beperkt maar zijn telkens zeer functioneel zoals het gebruik van de thammattama drum of tempeldrum in 'Ellstandissa' en 'The Elephant'.
De nadruk ligt nu eens op een lyrische benadering met sterke aandacht voor vlotte melodielijnen, dan weer op een aangepast ritmepatroon om een (veder)licht trance effect te bekomen. Deze evenwichtsoefening houdt het geheel interessant en boeiend. Meest afwijkend is 'Hirimbura', een semi-blues shuffle. Om een interessante inkijk te geven op het hele potentieel begint en eindigt de cd met de titeltrack, zij het telkens met een andere solist. Aan het begin is dat vocaliste Lara Bello en bij de afsluiter mag Chris Cheek zijn ding doen.
Een cd zonder dominante kenmerken maar met een gespreide dynamiek en genoeg meeslepende ensceneringen verankerd in diverse origines.
© Georges Tonla Briquet

Musici:
Chris Cheek: tenor- en sopraansaxofoon
Aaron Parks: piano
Hugh Stuckey: gitaar
Sam Anning: contrabas
Rajiv Jayaweera: drums, thammattama, caxixi
Lara Bello: vocals

www.rajivjayaweera.com
https://www.outsideinmusic.com/