Rafael Karlen Quintet - Equally True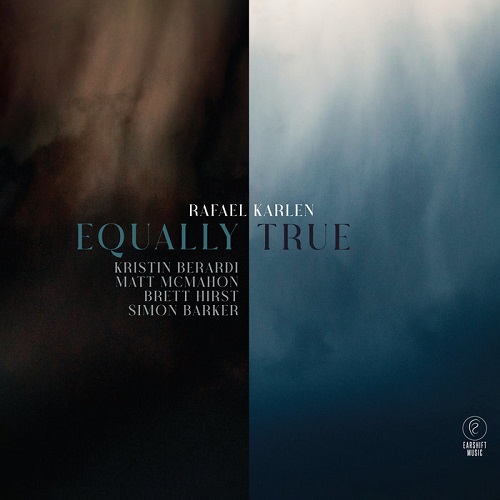 R
Earshift Music
"When I was preparing for Equally True," Karlen recalls, "my goal was to have clear, distilled compositions as vehicles and departure points for the players to engage with. I wanted to have pieces that were descriptive enough to capture a specific environment and mood but open enough for these amazing players to bring themselves into the music."
Eine wesentliche Charakteristik der Musik des vorliegenden Albums ist der stimmliche Input von Kristin Berardi. Dabei agiert sie auf Augenhöhe mit den Instrumentalisten der Band, da die Stimme nicht lyrischen Versen folgt, sondern lautmalerische Arabesken zu den Tracks beiträgt, ob dabei nun der Pianist oder Saxofonist als Begleiter in Erscheinung treten oder nicht. Die Vokalistin agiert als "zweite" Stimme und folgt den melodischen Linien von Piano und Saxofon, bisweilen im Unisono, so u. a. im Track "Foucault's Pendulum". Dieses Stück ist ebenso wie die vorherigen - "Again, as Always" und "Equally True" – von Weichzeichnungen und samtenen Schraffuren durchdrungen.  Dass den Tracks nichts Süßliches und Kitschiges innewohnt,  ist dem Saxofonisten Rafael Karlen zu verdanken, der fein verstäubte Klangaromen verbreitet und dennoch auf distinkte Klangsetzungen achtet.
Wie dahin segelnde Wolken mutet das an, was wir bei  der "Arrivals and Prospects Suite" als Hörerlebnis verzeichnen können. In dem ersten Teil der Suite, genannt "Blueprint of Possibilities" mischen sich lautmalerische Stimmanteile mit Verszeilen, mit Lyrik. Doch die Lyrik drängt das Instrumentale dabei nicht in den Hintergrund. Allerdings fällt auch bei diesem Teil des Albums auf, wie nachhaltig die Vokalistin die Klangfärbungen bestimmt.
Nach dem ersten Teil der Suite folgen noch drei weitere, so "Evening Corridors", "The Promise of Postcards"  und "My Own Quiet Library". Zu letzterem Track lesen wir folgende Erläuterung: "It expresses reflection on memories with kind/gentle nostalgia and the building up a personal memory archive from which to draw." Auf die Suite folgen "Seven Seconds After Sleep" und "Rich Hours". Nach einer kurzen Tonsilbenkaskadierung erklingt bei "Seven Seconds After Sleep" die samt-seidene Stimme der Vokalistin, die sich gleichsam auf einen Wechselgesang mit den Klangsequenzen des Pianos einlässt. Zarte Saxofon-Passagen werden des weiteren eingestreut. In ähnlicher Weise zart und sensibel agiert der Pianist, der bildlich gesprochen Klangaquarelle mit wässrigem Blau und Grün malt. Alles scheint im Fluss, scheint gemächlich dahin zu rinnen, auch die Zeit scheint langsam zu vergehen. Da gibt es Kontemplation und Innehalten, weniger ein Vorwärts-Vorwärts. Nimmt das Wunder angesichts des Tracktitels? Und was erleben wir bei "Rich Hours"? Auch in diesem Stück ist von einer Klanggouache zu reden. Dabei ähnelt der Duktus dem vorherig Gehörten.
Und zum Schluss heißt es dann auf dem vorliegenden Album:  "Before the Day". Das Album überzeugt durch die zarten, feinen Tongebilde, durch die Klanggoauchen mit Pastellfarben. Vor allem agiert Rafael Karlen entgegen der sonstigen Spielarten von Saxofonisten im Jazz nicht marktschreierisch, sondern kehrt das Lyrische hervor. Wahrlich ein Ohrenschmaus!

© fdp2022



www.earshift.com

Line-up:
Rafael Karlen - saxophone, composition
https://www.rafaelkarlen.com
Kristin Berardi - voice
Matt McMahon - piano
Brett Hirst - bass
Simon Barker – drums