"PHI" ou le nombre d'or vu par Olivier Collette (GTB)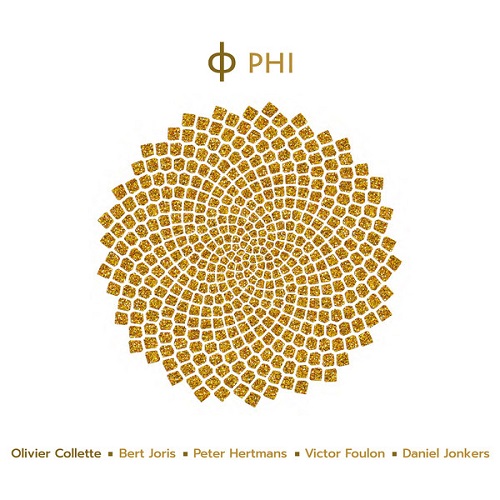 O
Hypnote Records
De gulden snede of sectio divina (phi /Φ) blijft na eeuwen nog steeds intrigeren. Olivier Collette wijdt er nu zelfs een volledige cd aan.
In Vlaanderen klinkt zijn naam niet echt bekend in de oren ondanks medewerkingen met Philip Catherine, Steve Houben, Bart Defoort en Olivier Ker Ourio. Collette kan nochtans ook een kleine maar fijne discografie voorleggen.
Het getal phi vormde het startpunt voor zijn nieuwe cd. In het bijgevoegde boekje legt Collette zelfs uit hoe hij phi transponeerde naar zijn manier van componeren. Uiteindelijk werd 'PHI' (gelukkig) geen conceptplaat boordevol intellectuele verwijzingen en verborgen symbolen. Titels als 'Seagull's Flight', 'Between A Tear And A Smile' en 'Brazilian Sunflowers' zijn meer directe verwijzingen naar wat hier te horen is: stijlvolle combinaties van licht golvende melodielijnen, doordachte harmonieën en speelse swing. Smaakmakers zijn Colette zelf maar vooral Peter Hertmans die zichzelf hier overtreft. De gitarist zijn gevoel voor melodie en ritme is onberispelijk over heel de lijn. Bert Joris draagt op zijn eigen manier bij om het geheel de juiste inkleuring en karakter te verlenen. De jongere ritmesectie (drummer Daniel Jonkers en bassist Victor Foulon) weet alles perfect in te kaderen op een gedreven maar vooral uiterst beheerste manier. Met als hoogtepunten 'Introspection' en 'Twisted Minor Blues'.
De zoektocht naar de esthetische perfectie stopt niet bij deze cd maar Olivier Collette en C° bewijzen wel dat er tegenwoordig in de Belgische jazz nog veel meer te beleven valt dan enkel de tribulaties van de new wave beweging.
© Georges Tonla Briquet


www.oliviercollette.com
www.hypnoterecords.com

Live 2019:
27.04: Olivier Collette Trio + Peter Hertmans (Sounds, Brussel)