"PHI" ou le nombre d'or vu par Olivier Collette (CL)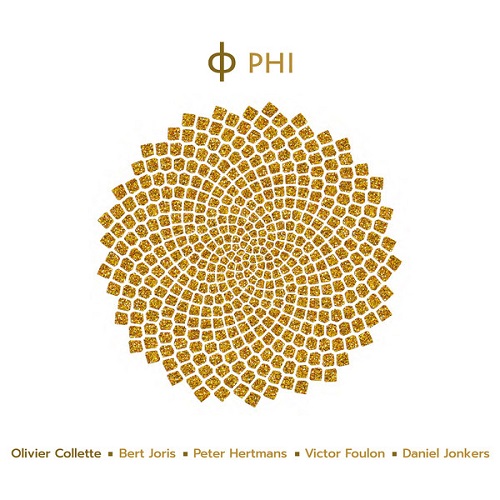 O
Hypnote Records
La musique d'Olivier Collette, notamment par son lyrisme mélodique assumé, est le résultat d'une double formation: jazz, d'un côté, avec, pour professeur, Diederik Wissels au Jazz Studio d'Anvers, Eric Legnini au Conservatoire de Bruxelles, Kenny Werner ou Fred Hersch à New York; de l'autre, piano classique dans la classe de Marie Boulenger.
S'il a souvent joué en quartet, successivement avec Kurt Van Herck, Bart Defoort et Phil Abraham, pour ses deux premiers albums, il avait convié de nombreux invités: notamment Kurt Van Herck, Steve Houben, Phil Abraham, Olivier Bodson, Patrick Deltenre pour Joy and Mystery en 2001; Bart Defoort, Olivier Ker Ourio ou Cécile Broché, entre autres, pour De l'aube au crépuscule (2003). En 2014, il gravait 7 Views of a secret, avec Raphaelle Brochet (voc), Philippe Aerts et Renato Martins (perc) et, en 2017, Conceptions, en quartet avec Steve Houben. Pour PHI, inspiré par la fascination du nombre d'or, il a fait appel à Bert Joris, Peter Hertmans, Victor Foulon, contrebassiste qui a participé au projet Pasarela de Diederik Wissels et Daniel Jonkers, batteur qui côtoie le guitariste Tim Finoulst comme la pianiste Marie Fikry (album Proche Orience).
Trois titres traduisent parfaitement l'écriture mélodique du pianiste, une musique intimiste, tout en délicatesse:  Introspection, Sweet, simple and beautiful et ce Between a tear and a smile, un titre inspiré par Toots. Parmi les 8 compositions originales, trois sont interprétées en quartet avec Bert Joris, une formule à laquelle le trompettiste anversois est habitué, que ce soit avec l'Italien Dado Moroni (Only for the honest, Magone) ou Enrico Pieranunzi (Don't forget the poet). Sur Sweet, simple and beautiful, le bugle porte la mélodie pour déboucher sur un beau solo de piano. On retrouve la même pureté mélodique sur Introspection ou Between atear and a smile. Trois autres plages sont interprétées avec Peter Hertmans. Si le natif de Gand a souvent enregistré avec des saxophonistes (Jeroen Van Herzeele, Daniel Stockart ou Stéphane Mercier), il a aussi côtoyé des pianistes, comme Charles Loos (Summer Residence) ou Nicola Andrioli (Trip). Si la guitare porte généralement le thème, elle débouche tantôt sur un solo de piano (Seagull's flight), tantôt de guitare (Goldmine). Enfin, deux compositions sont enregistrées en quintet (Hepta, Brazilian sunflowers). Tout au long, on retrouve la belle sonorité de contrebasse de Victor Foulon et le jeu tout en nuances de Daniel Jonkers. Une musique tout en équilibre.
© Claude Loxhay
Article aussi publié sur jazzaroundmag