Orchestra Nazionale della Luna - There's still life on earth (cl)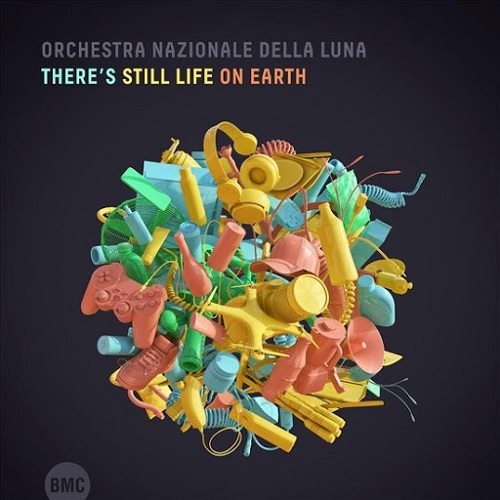 O
BMC / musicwords.nl
Manu Hermia aime les rencontres. Il a ainsi formé un trio avec le Sarde Manolo Cabras et le Portugais João Lobo (Austerity...and what about rage), croisé l'Indien Dhruba Ghosh pour Le Murmure de l'Orient, les Français Valentin Ceccaldi et Sylvain Darrifourcq pour God at the casino, l'Indien Purbayan Chatterjee avec Slang ou le violoniste algérien Kheireddine Mkachiche pour Bahdja.
L'Orchestra Nazionale della Luna a été l'occasion de nouvelles rencontres. D'abord avec le claviériste finlandais Kari Ikonen, croisé grâce à une initiative du Budapest Music Center et, dans la foulée, le contrebassiste français Sébastien Boisseau, qui a joué avec Daniel Humair comme Joachim Kuhn ou Christophe Monniot, ainsi que l'Anversois Teun Verbruggen, une figure incontournable de la scène belge.
Après un premier album auto-produit en 2017, voici There's still life on earth enregistré par le label hongrois BMC: une superbe réalisation, que ce soit au niveau de la prise de son, des photos ou du texte du livret qui détaille chaque composition (on est loin des pochettes ascétiques du label ECM). Le titre de l'album fait référence à une évidente préoccupation d'ordre écologique: l'avenir de la planète. Ainsi que le suggère Ecocracy, une composition de Manu: "Ecology should be the new priority" (texte du livret). C'est l'affaire de tous mais un sursaut est possible, comme le suggère le titre de l'album qui prend une connotation supplémentaire en nos temps de pandémie. Voici donc un album "engagé".
Au répertoire, six compositions de Kari Ikonen (dont Prophètes que le Finlandais avait déjà enregistré avec Louis Sclavis sur le disque Ikonostasis et le titre éponyme dont le quartet joue deux courtes versions), quatre de Manu Hermia (Ecocracy, Internal duality, Al Qamar, Out of gravity) et une co-écrite (Melting Poles). Kari Ikonen virevolte du piano au Moog qui allie aspect mélodique et effets bruitistes et, sur deux titres aux allures arabisantes, Al Bahr (la mer, la Méditerranée, "grave for far too many refugees") et Al Qamar (la lune, "if we continue to burn our forests, our planet might one day look like the moon seen from there"), il recourt à ce qu'il appelle le "maqiano", un dispositif de piano préparé qu'il a imaginé pour jouer des quarts de ton, comme dans les maqams, ces gammes typiques de la musique arabe. Ce qui permet à Manu de prendre, lui aussi, des envols arabisants, tantôt au ténor (Al Bahr), tantôt à la flûte bansuri (Al Qamar). Dans la plupart des titres, on entend Manu au ténor, parfois au soprano (Melting Poles, Prophètes), parfois à la flûte (There's still life on earth qui ouvre l'album, Al Qamar).
La contrebasse, à la sonorité ronde et puissante, est omniprésente (solo sur Kääpikkäät, Ecocracy, Out of gravity) et Teun, percussionniste autant que batteur à la frappe sèche, fait preuve d'une inventivité constante (Al Qamar, Prophètes). Alternant atmosphères arabisantes (Al Bahr, Al Qamar), calme méditatif (Melting Poles) et rythmes virevoltants (Internal Duality, Out of gravity, Cannon Canon), l'album offre un large spectre sonore et une profonde originalité.
Dans l'attente du déconfinement, à découvrir via les plateformes ou les vidéos.
© Claude Loxhay
En partenariat avec



Lien vers toutes les plateformes (steaming, physique, téléchargement): https://orcd/ondl-still-life
Vidéos sur You Tube: Al Bahr, Melting Poles, There's still life on earth, Myrkkysienikeitto