Olivier Collette - Classical Tribute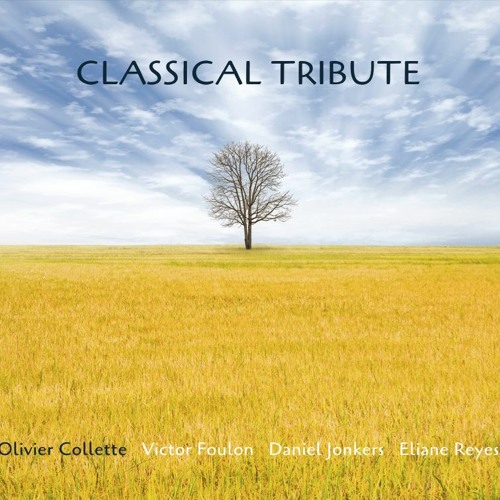 O
Heptone
A côté de sa formation jazz, débutée au Jazz Studio en compagnie de Diederik Wissels, poursuivie au Conservatoire de Bruxelles avec Eric Legnini et à New York avec Kenny Werner, Olivier Collette a aussi une formation en piano classique.
Cette double formation explique aisément l'importance du lyrisme mélodique dans son jeu, une caractéristique qui est présente tout au long de sa discographie. D'abord, en 2001, avec "Joy and Mystery", enregistré avec de nombreux invités, comme Steve Houben ou Phil Abraham; puis, en 2005, avec "De l'aube au crépuscule", gravé avec d'autres invités; ensuite, au travers de "Views of a Secret" de 2014, en compagnie de la vocaliste Raphaëlle Brochet; "Conceptions" de 2017 qui lui permet de retrouver Steve Houben et "Phi" de 2019, réflexion autour du nombre d'or, avec, selon les plages, Bert Joris ou Peter Hertmans.
Voici son nouveau projet, "Classical Tribute": la rencontre entre deux univers, d'un côté la musique classique, de l'autre le jazz. Au total, onze plages, des emprunts à Chopin ('Valse en la mineur', 'Nocturne en mi bémol'), à Liszt ('Liebestraum'), à  Mozart ('Concerto n° 21'), 'The little Negro' de Debussy, 'Sicilienne' de Bach, le 'Boléro' de Ravel ainsi que le '2e mouvement du concerto en sol majeur', 'Cold Song' de Purcell et deux compositions originales: 'Variation sur le prélude en do mineur' (inspiré de Bach) et 'Variation sur le prélude en do majeur'.
Deux compositions personnelles qui ouvrent et ferment l'album et qui, dans cet esprit de rencontre entre musique classique et jazz, sont interprétées par Eliane Reyes, pianiste classique née à Verviers et qui a poursuivi ses études au Conservatoire de Bruxelles puis à la Chapelle Reine Elisabeth, en compagnie de Jean-Claude Vanden Eynden.
Les autres plages sont jouées par Olivier Collette en trio. D'une part, avec Victor Foulon au jeu très mélodique à la contrebasse, un musicien qui a enregistré "Pasarela" avec Diederik Wissels, un gage de subtilité mélodique.
D'autre part, avec Daniel Jonkers, batteur d'origine néerlandaise, qui a débuté ses études au Conservatoire de Maastricht pour les terminer à Bruxelles. On l'a entendu au sein du trio du guitariste Tim Finoulst ("Tender Machine"),  avec Pauline Leblond ("Suites de danses"), le trio de Martin Salemi et "State of time" de Maxime Blésin (g) et Stéphane Mercier (as), à chaque fois avec un jeu d'une parfaite légèreté.
Au cours des années, plusieurs rencontres entre musique classique et jazz ont été couronnées de succès, que ce soit le 'Concierto de Aranjuez' de J. Rodrigo joué par Miles Davis, en compagnie de l'orchestre de Gil Evans ou ce 'Gymnopédie' de Satie très souvent repris, notamment par Bill Evans et Herbie Mann, d'autres furent plus "discutables" comme le "Play Bach" de Jacques Loussier.
Ici, Olivier Collette propose des versions personnelles tout en respectant l'esprit de chaque  compositeur, que ce soit la délicatesse mélodique de Chopin, Liszt, Purcell, l'influence du ragtime dans 'The little negro' de Debussy et cette version subtile du 'Boléro' de Ravel avec un décalage entre les deux mains. Ajoutez à cela, de splendides solos de contrebasse ('Liebestraum', 'The little Negro', 'Nocturne' de Chopin ou cette 'Variation sur le prélude en do mineur') qui illustrent parfaitement l'ancrage jazz du projet.
Un pari réussi au travers d'une musique qui respire la sérénité.
© Claude Loxhay
Une collaboration JazzMania/Jazz'halo