Ohad Talmor Newsreel - Long Forms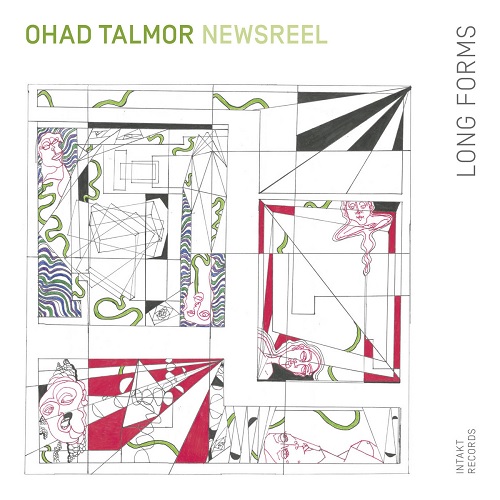 O
Intakt
Né à Lyon en 1970, au sein d'une famille d'origine juive, mais ayant grandi à Genève, Ohad Talmor a d'abord étudié le piano, avant de se consacrer, à 18 ans, au saxophone.
En 1989, il fait une rencontre essentielle pour sa carrière: Lee Konitz, avec qui il va faire quelque 200 concerts et enregistrer plusieurs albums (Inventions, Portology et, avec le New Nonet, Old Songs New). En 1995, il gagne New York et s'inscrit à la Manhattan School of Music.
Il a, entre autres, enregistré avec Steve Swallow et Adam Nussbaum (Singular Curves et Playing in traffic) ou avec Kurt Rosenwinkel (Our secret world).
Après avoir fondé un quartet, il forme le sextet Newsreel.
A la trompette, Shane Endsley né en 1975, dans le Colorado. Musicien très actif, il a enregistré, notamment, avec Steve Coleman (The sonic language of myth) et avec le saxophoniste Donny McCaslin (Soar). Il a fondé le groupe Kneebody, avec le saxophoniste Ben Wendel (album Kneedelus);
A la guitare, Miles Okazaki qui a côtoyé Kenny Barron comme John Zorn et enregistré les compositions de Monk en guitare solo.
Au piano, Jacob Sacks, qui, lui aussi, a fréquenté la Manhattan School of Music où il a rencontré le batteur Dan Weiss, avec qui il a formé un trio en compagnie du contrebassiste Thomas Morgan et un quintet (album No man's land). Il a aussi joué en quartet avec le violoniste Mat Maneri. (Two Miles a Day).
A la contrebasse, Matt Pavolka, élève de Berklee, qui a notamment enregistré Something people can use et The sound of New York Jazz Underground.
A la batterie, le fougueux Dan Weiss. En trio, avec Jacob Sacks et Thomas Morgan, il a gravé Timshel et Now yes when. Il a formé un Large Ensemble (album Fifteen), enregistré avec notre compatriote Jozef Dumoulin (Trust), avec le saxophoniste David Binney, en duo avec le batteur Ari Hoenig ou le pianiste Matt Mitchell: une des figures marquantes de la scène new yorkaise.
A côté du court Groupings (1 minute 12), Long Forms propose de longues compositions de 6 à 14 minutes 30: des structures complexes, sans réelle unisson entre instruments, mais avec une constante interaction entre les discours de chacun. Ce qui laisse une large place à l'improvisation et aux solos (saxophone ténor sur la majorité des plages, piano sur Kayeda ou Musique anodine, contrebasse sur Kayeda, guitare sur Musique anodine).
Les arrangements sont aussi importants que les compositions: "Nothing is repeated. The compositions create their own form, grow out of themselves, although their form is continualy shifting" (Talmor dans le livret).
Certaines compositions sont, en partie, inspirées par la musique de l'Inde du Nord où Talmor a étudié le bansuri avec le maître Steve Gorn: il joue du bansuri, à côté de la clarinette, sur la plage la plus longue: Musique anodine.
Si Layas Linas et Kayeda sont construits sur des rythmes complexes et échevelés, remplis d'énergie, Casado est plus mesuré, proche de la ballade et Scent débute sur un tempo apaisé pour se développer avec fougue.
Une formation soudée, avec des solistes de premier plan: une vraie découverte.
© Claude Loxhay