Oene van Geel/Tom Van Dyck – Frisbee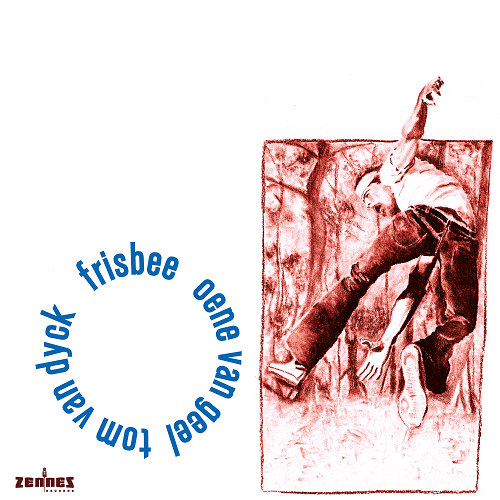 O
Zennez Records
De artistieke overlevingsdrang tijdens het voorbije Covid-jaar leverde interessante initiatieven op. Zo zochten Oene Van Geel en Tom Van Dyck elkaar na jaren opnieuw op via digitale weg en ontwierpen samen deze 'Frisbee'.
De ganse pandemie zorgde ervoor dat heel wat mensen contact verloren door opgelegde afzonderingen. Oene van Geel (Zapp4, Holland Opera) en Tom Van Dyck (Saxkartel, t-unit 7) deden net het tegengestelde. Het was een meer dan aangenaam wedervinden na meer dan twee decennia. Niet dat ze ooit een serieus meningsverschil hadden maar na hun studies kozen ze elk een verschillende muzikale weg en bleef het bij sporadische vriendschappelijke contacten. Tot augustus 2020. Gedurende drie weken wisselden ze ideeën uit volgens een eigen frisbee-techniek. Ze verstuurden, beluisterden, bewerkten en vulden aan om uiteindelijk tot een selectie van tien tracks te komen.
Tom Van Dyck leefde zich uit op alt-,sopraan-, tenor- en baritonsaxofoon maar greep tevens naar een Ewi (Akai 4000s) terwijl Oene van Geel actief was op diverse snaarinstrumenten (altviool, cello, quinton). Hier en daar voegde hij eveneens wat percussie en zelfs vocalen toe. Een combinatie waar je zoal een en ander mee kan aanvangen. En dat deden beide heren dan ook. Van pure repetitieve clusters geleend bij Philip Glass en Steve Reich ('Kenzo Swirling') tot stijlvolle eclectische kamermuziek ('Three To Tango') en van een sjamanistische stijloefening ('Shamanic Tom') tot een spiritueel gekleurd interludium ('Let The Trees Speak'). De barokke actie van 'Matric Hip Hop' springt het meest expliciet uit de band. Kortom, een amalgaam van stijlen en invloeden dat ze aanwendden om een totaal eigen dynamiek te ontwikkelen. Bovendien vulden Mark Haanstra en Oguz Büyükberber elk op een track wat extra pigmenten toe, respectievelijk met contrabas en synthesizer.
Een bewijs dat niet alleen afstandsonderwijs maar ook afstandscomponeren tot bevredigende resultaten kan leiden en deuren opent naar de toekomst want 'Frisbee' is wel degelijk een opname die om een vervolg vraagt, vooral live.
© Georges Tonla Briquet


Bezetting:
Oene van Geel: altviool, f-Quinton, cello, percussie, vocals
Tom Van Dyck: alt-, sopraan-, tenor- en baritonsaxofoon, Ewi
Oguz Büyükberber: modular synth
Mark Haanstra: contrabas

www.zennezrecords.com