Müntzing/Wikström/Callesen – Ping Pong Punktum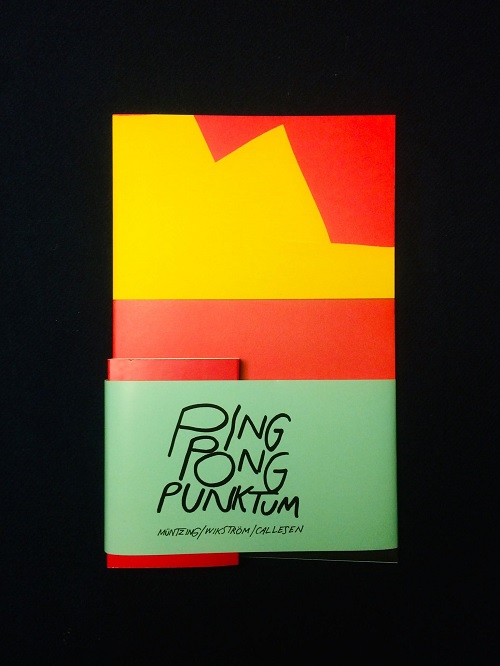 M
ILK
'Ping Pong Punktum' is niet zomaar een nieuwe release van het Deense ILK. Het gaat om een cassette met bijgevoegd geïllustreerd boekwerk. Een en ander werd in elkaar gestoken door electro wizards Herman Müntzing en Qarin Wikström samen met visueel artiest Jan Oksbøl Callesen.
Bij ILK zitten ze nooit verlegen om een stunt. Alhoewel stunt hier niet de juiste omschrijving is. Aangezien het label opgericht is door een collectief van muzikanten worden andere regels toegepast. Wie toegelaten wordt tot de beperkte kring van bestuursleden krijgt carte blanche voor zijn of haar producties. Creatieve vrijheid tot het uiterste dus waardoor het mogelijk wordt een cassette met kunstboekje uit te brengen. Recent waren er trouwens nog 'Because You're Worth It' met bijhorend bouwpakket van All Too Human en de twee cd's met boeken van Mark Solborg ('Tungemål I+II').
Muzikaal valt 'Ping Pong Punktum' totaal buiten elke omschrijving en etikettering. Gelukkig bezorgen de componisten-improvisatoren en auteur een basishandleiding over hoe je hier best aan begint. "Turn the page, start the tape". Heel simpel. Intimiderende industrial geluiden gekoppeld aan aanverwante effecten verwelkomen de luisteraar in een onderwereld waar malafide personen ronddwalen. We denken aan 'Eraserhead' (David Lynch) en 'Night Of The Living Dead' (George Romero). Amorfe en verwrongen structuren waar elke vorm van melodie en harmonie in ontbreekt zijn de bouwstenen hier. Het is verdwalen in een lunapark waar horror duidelijk het hoofdthema is. Geheugenletsels gegarandeerd na beluistering.
En toch zit er poëzie in dit alles verscholen. In een aantal geluidstaferelen van Müntzing en Wikström maar vooral in de illustraties van Callesen. Daar waar je hier eerder werk zou verwachten waarin de Brusselse galerij E²/Sterput (Lakensestraat 122) grossiert, denk je automatisch meer aan een kruising tussen ontwerpen van Roger Raveel en Saul Bass. Humor heeft het trio eveneens. Elk nummer wordt afgekondigd door een pingpongballetje in een schaal te werpen. En dan hadden we het nog niet over titels als 'We Had Way Too Much Sugar That Day', 'I Greet You, I Consume You' of 'Frying Eggs, Solving Equations'. Het pingpongballetje verbeeldt trouwens het mechanisme van onderlinge wisselwerking tussen de drie artiesten. Elkeen reageert op de voorstellen van de anderen.
Magritte zou het waarschijnlijk de titel geven "Ceci n'est pas du ping pong". Ook interessant als apocalyptisch gezelschapsspel waarbij ieder om beurt interpretaties geeft bij wat ze zien en horen. Vooral lezers van GONZO (circus) en wie een diploma sonologie op zak heeft, doen hier hun voordeel mee.
Tags: nu abstract, post experimental, anti ambient, space escapisme
© Georges Tonla Briquet

Musici:
Herman Müntzing: electronics, toetsen, machines
Qarin Wikström: electronics, toetsen, stem
Jan Oksbøl Callesen: illustraties

www.ilkmusic.com