Moppa Elliott – Jazz Band/Rock Band/Dance Band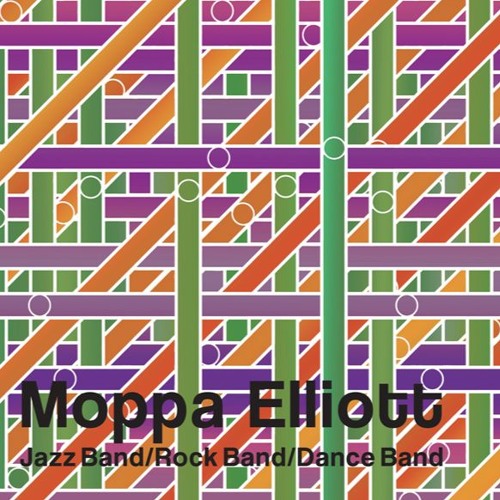 M
Hot Cup!
Het "enfant terrible" van het exuberante Mostly Other People Do The Killing zorgt weer voor sensatie met 'Jazz Band/Rock Band/ Dance Band', een drieluik op het kruispunt van jazz, rock en dance.
Drie cd's (hier verspreid over twee schijfjes) opgenomen op verschillende data met telkens een andere groep. De rode draad bij deze "wildly different music" zijn de composities van bassist en genremanipulator Moppa. Enkel 'Power' ontleende hij bij Kanye West.
Op deel 1 ('Advancing On a Wild Pitch') horen we Elliott, de jazzman. Hij sleurt ons mee naar hartje New Orleans met trombonist Sam Kulik aan het hoofd van de stoet. Een kleurrijke wandeling langs kroegen en bars waar funk, blues, boogie en jazz uit vensters en deuren schallen. Zes stops in totaal met titels als 'Oreland', 'Herminie', 'St. Mary's Proctor', 'Baden', 'Can't Tell Shipp From Shohola' en 'Slab'. Dr. John en Professor Longhair zijn nooit ver weg. Moppa Elliott zou Moppa Elliott niet zijn mocht hij niet regelmatig een onverwachte wending introduceren. Dat doet hij dan ook met plezier, zonder overdreven af te wijken van het traditionele jazzpad. Heel geslaagde vintageklank trouwens.
Op 'Unspeakable Garbage' out Elliott zich als (glam)rocker. Van meet af aan slingert hij met 'Rocks, MD' een heuse splinterbom het publiek in. Het is saxofonist Jon Irabagon die gretig het vuur aan de lont steekt, alsof hij zich opnieuw in zijn vroegere coverband Starship's Journey: A Tribute tot he Music of the 80s bevindt. 'Punxsutawney' is een puur staaltje trashrock met soulgroove en stadionallures. Dit zou zelfs niet misstaan in het repertoire van Springsteen de rocker mocht hij Clarence Clemons nog aan zijn zijde hebben. Al even volumineus klinken 'Stone Hill' en 'Minersville' met gitarist Millevoi die alle trucs van de gitaarheld uit de kast haalt, perfect ondersteund door Irabagon. 'Drumore' is dan weer pure Cheap Trick. Andere referenties die her en der opduiken zijn Nick Lowe, Thomas Dolby, Bob Seger en Bowie ('Dark Star').
Tenslotte is er nog 'Acceleration Due To Gravity', het meest geschifte luik van de drie. Hier kronkelen Moppa en zijn nonet zich door een labyrint dat wel ontworpen lijkt door Zappa. De luisteraar wordt geconfronteerd met de meest cartooneske situaties terwijl het muzikale kompas rondjes draait van New Orleans tot psychosurf. Helemaal te gek wordt het in 'Power' (Kanye West) waarin het lijkt alsof de hele bende musiceert terwijl ze voortglijden op glad ijs. Hearing is believing.
Ideale trilogie voor lesgevers en conferenciers om de geschiedenis van de jazz eens op een alternatieve manier te overlopen. Van second line tot hiphop, het komt hier allemaal aan bod. Doe uw voordeel.





Advancing On a Wild Pitch (opgenomen op 13 maart 2017)
Sam Kulik: trombone
Charles Evans: baritonsaxofoon
Danny Fox: piano
Moppa Elliott: bas
Christian Coleman: drums


Unspeakble Garbage (opgenomen op 15 mei 2018)
Jon Irabagon: tenorsaxofoon
Nicky Millevoi: gitaar
Ronny Stabinsky: piano
The Mop: bas
Daniel James Monaghan: drums


Acceleration Due To Gravity (opgenomen op 2 juli 2018)
Nate Wooley: trompet
Dave Taylor: trombone
Matt Nelson: alt- & sopraansaxofoon
Bryan Murray: tenor- en sopraansaxofoon
Kyle Saulnier: baritonsaxofoon
Ava Mendoza: gitaar
George Burton: piano
Moppa Elliott: bas
Mike Pride: drums


www.hotcuprecords.com

© Georges Tonla Briquet