M.O.M (Moutin.Omicil.Moutin)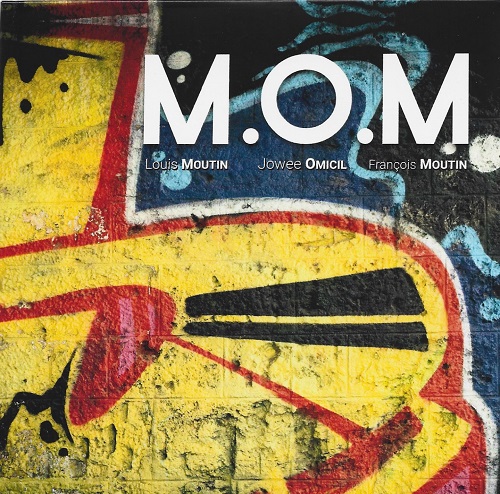 M
Laborie Jazz
Doit-on encore présenter le duo des frères Moutin? François le contrebassiste et Louis le batteur forment depuis tant d'années la base rythmique des plus grands tels Martial Solal, Jean-Michel Pilc (deux trios passés par le Festival de Liège) ou encore Michel Portal. François de son côté s'installera à Paris où il travailles aux côtés de Mike Stern, Randy Brecker, Lew Soloff, Billy Hart, Jeff Tain Watts… sans pour autant continuer de jouer avec son frère des deux côtés de l'Atlantique avec le « Moutin Reunion Quartet.
Voilà donc un duo fraternel préparé à toutes les possibilités du jazz. Ici, avec « M.O.M », ce sera celle du trio avec le souffleur (saxes et clarinette) Jowee Omicil, le « O » entre les deux « M », « O » rencontré par Louis sur le tournage de « The Eddy » pour Netflix, ila suffi de joindre l'autre « M » et « M.OM » était né. D'origine haïtienne, né à Montreal et basé aujourd'hui à Paris, Jowee Omicil est ce qu'on peut appeler un saxophoniste complet, touchant avec verve et naturel aux trois principaux saxophones, soprano, alto et ténor, où on retrouve le parcours d'écoute diversifié qui l'a amené aujourd'hui à un son bien à lui. 
Ainsi perçoit-on le charme dansant et chaloupé des airs Caraïbes de Sonny Rollins sur « AM » ou les sonorités du Wayne Shorter période Miles sur « Fly With the Wind » mêlées à la fulgurance d'Albert Ayler dans le développement du morceau, tout ceci relevant de l'assimilation et non du servile copiage. Et que dire de l'habillage chatoyant des frères Moutin, tels deux couturiers qui assemblent, découpent, reconstruisent avec une intensité de tous les instants. Ce disque est du début à la fin plein de verve, de joie et d'énergie jusque dans les moments plus tendres comme cette déliceuse « Caresse » à la clarinette.
Un disque qui baigne dans la tradition, la spontanéité de l'improvisation et qui s'écoute comme si on était en club.
© Jean-Pierre Goffin
Une collaboration JazzMania / Jazz'halo