Michiel Stekelenburg Trio Onoda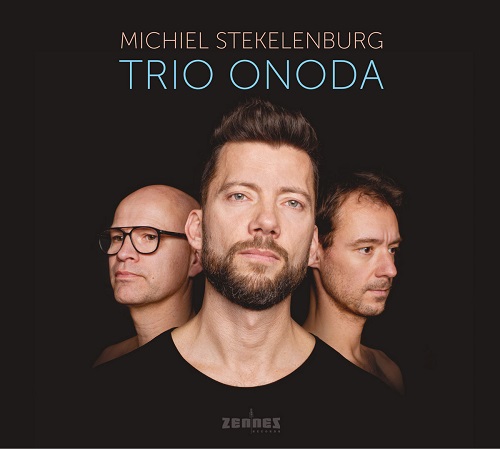 M
ZenneZ Records
Here is a refreshing take on the organ trio format. The traditional line-up of electric guitar, Hammond B3 and drums gives lots of scope for collective improvisation and interplay.
Trio Onoda exploits that with 9 atmospheric compositions by guitarist Michiel Stekelenburg, whose origins in rock music have influenced both his playing and his writing. The group avoids organ trio staples like groove based pieces, mainstream jazz harmony and be-bop solos. Instead their style owes a lot to contemporary composition, fused with plenty of spontaneity and raw energy.
The guitar sounds are finely graded from sonorous chords to distorted lead lines. Organist Arno Krijger makes wonderfully expressive use of swell pedal, vibrato, reverb, Leslie speaker variations and subtle drawbar changes; he often plays an orchestral role. Drummer Jasper van Hulten also deals in colour as well as rhythm, and you can hear how closely these musicians listen to each other.
A good example is "Keyser Söze" which begins with mysterious rising discords over a shifting 6/8 pattern on drums, then moves into an expressive solo organ section; the levels of distortion on both organ and guitar vary as the tension builds with blistering drum syncopation.
"Five" begins with chordal guitar supported by wordless vocals and an organ pad then builds into a syncopated 5/4 pattern before returning to the reflective intro. "As we grow" explores a pensive chord sequence of rising minor 7ths, organ builds intensity and brush drums add atmosphere - hymn like rapture builds to a climax over 5 minutes. A beautiful and memorable composition.
"Consecotaleophobia" is based around a high energy guitar/organ riff, which breaks down into quieter components allowing organ and drums into the focus, then a wahwah guitar solo soars over the riff,  inventive and tumbling. There are hints of prog rock - imagine King Crimson with Keith Emerson on organ - but the piece is rigorously structured, virtuosity always at the service of the music.
"Seven on two" takes Wes Montgomery's "Four on six" to one logical extreme by developing variations in 7/8 time; I wonder if they have listened to the wonderful Nigel Price organ trio version of this tune in 6/8 time? There are echoes of the original bassline, punctuating calm and nervous sections. The fusion style guitar solo is concise and to the point, recalling Jeff Beck.
"Mist" develops a minimalist organ pattern with changing footages, simple guitar lines and a restless drum pattern, combined effortlessly to be more than the sum of its parts.
This is music not afraid to be abstract and challenging, for listeners as well as musicians. It is full of surprises - blink and you will miss something new. I loved the intensity, the directness and the contrast between pensive and driving sections.

© Stephen Godsall



Musici:
Michiel Stekelenburg - guitars
Arno Krijger - Hammond B3 organ & bass pedals
Jasper van Hulten - drums