Michel Bisceglia Trio: singularity + bonus album my ideal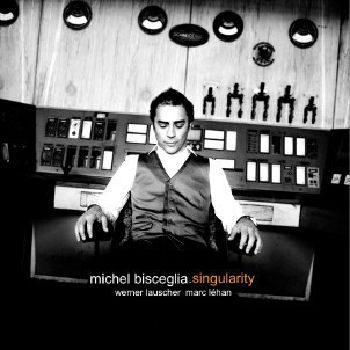 M
prova records, PR 1401-CD22
Das Besondere am vorliegenden Album ist die Tatsache, dass nicht etwa nur einen Bonus-Track gibt, sondern ein komplettes Bonus-Album. Das ist geschickt eingefädelt, denn damit hat Michel Bisceglia sich ein Alleinstellungsmerkmal geschaffen. Eigentlich müsste man aber von einer Doppel-CD sprechen! Dass Bisceglia sicherlich für seine Kompositionen und seine Art des Klavierspiels auf die Klassik zurückgreift, kann man dessen Spielweise entnehmen. Zudem unterstreicht dies auch der erste Titel der CD namens "puccini", eine von sieben weiteren Eigenkompositionen, die veröffentlicht wurden. Doch vergessen wir die Klassik, denn Michel Bisceglia ist ja im Jazz zuhause.
Zum Trio des belgischen Musikers gehören der Bassist Werner Lauscher und der Drummer Mac Léhan, die beide in allen Stücken durchweg sehr zurückgenommen agieren. Daher darf die Frage erlaubt sein, warum sich Michel Bisceglia nicht zu einer Solo-CD hat durchringen können.
Auf die Klassik kommt es an, oder?
Der aus der belgischen Provinz Limburg stammende Pianist Bisceglia agiert souverän und vermeidet banale Klangfiguren. Insbesondere die erste Einspielung "puccini" strahlt Schwermut aus und lässt uns eher an Sibelius und Grieg als an Puccini denken. Vom ersten Moment an können wir uns auf Hörgenuss für entspannte Stunden einstellen. Die Musik verzichtet auf aufgesetzte Aufreger. Sie sucht nicht nach Disharmonien, sondern nach dem Melodiösen, das vielleicht auch als lyrisch zu bezeichnen ist. Der zweite Song entführt uns in die Welt des Blues, wenn "meaning of the blues" von Troup/Worth erklingt. Wer denn allerdings Blues im Sinne von T-Bone Walker oder Muddy Waters erwartet, der wird eines Besseren belehrt. Bisceglia verlässt auch bei diesem Stück seinen ihm eigenen Duktus nicht. Eingängig sind die Basssequenzen, die Werner Lauscher zu verdanken sind und die hier und da von Bisceglia mit Tastenakzenten versehen werden. Insgesamt drängt sich bei dem vorliegenden Stück eher der Vergleich mit einem Werk der Romantik auf. Assoziationen wie "ruhender Wald mit sprudelnder Quelle" fallen dem Zuhörer u. U. ein. Mit einer Zutat aus der Popmusik kommt "Jasmine" daher. Dahinter könnte sich schlicht eine Liebesgeschichte verbergen, die musikalisch erzählt wird. Doch ohne Booklet erfahren wir darüber nichts. Dass Michel Bisceglia auch durchaus energiegeladen spielen kann, unterstreicht er bei "choosing". Man achte dann mal auf die Basslinien, wenn man sich den Song anhört.
Singulär, singulär
Hört man bei "singularity" nicht einen einsamen Spaziergänger durch das Laub des Herbstwaldes stapfen? Auch bei diesem Song scheint Cool Jazz angesagt, also eher linear angelegtes Spiel ohne tönenden Überschwall.
A Whiter Shade of Pale
Auffallend ist, dass bei der Auswahl der Fremdkompositionen nicht auf Bill Evans, Thelonious Monk, Oscar Peterson oder Erroll Garner zurückgegriffen wird. Diese sind alle als Granden des Jazz zu bezeichnen und alle hatten, wie auch Michel Bisceglia, eine Vorliebe für die schwarzen und weißen Tasten. Es ist gewiss eine spannende Frage, inwieweit diese Jazzpianisten auch den in Belgisch-Limburg lebenden Michel Bisceglia beeinflusst haben. Verdutzt reiben wir uns die Augen, wenn wir auf der Bonus-CD den Titel " a whiter shade of pale" entdecken. Dieser Song ist einer der vielen One Hit Wonder der Popmusik und wurde durch Procul Harum in die Charts gespült. In den Klangfarben unterscheidet sich die verjazzte Popmusik in keiner Weise von den übrigen Aufnahmen der CD "my ideal". Episch geht es in vielen der Stücke Bisceglias zu, die wir als Hörgenuss genießen können. In hektischen Zeiten braucht man Musik für die Kontemplation. Derartiges hat das Trio um Michel Bisceglia gewiss realisiert.
© ferdinand dupuis-panther
English Press Release by prova records
Michel Bisceglia trio
singularity
After having written 8 soundtracks in the last 3 years, Michel Bisceglia decided that the time was right to head back into the studio to record a new album with his jazz trio. The song 'Passion Theme' on Singularity is a reference to the latest soundtrack Michel Bisceglia composed for the film 'Marina' directed by Stijn Coninx. Singularity refers to the relationship between humans and artificial intelligence, and the level of technological evolution which will eventually become incomprehensible for contemporary humans. This concept has always fascinated Michel Bisceglia, since he experiences a similar correlation between humans and music - they strongly influence and stimulate one another, often beyond the boundaries of what is comprehensible to mankind. The trio was formed almost 20 years ago, and they still perform in their original line-up. This results in a wonderful group dynamics and a musical maturity which is reflected most by the wavelike motions that Werner Lauscher (upright bass) and Marc Léhan (drums) produce in their accompaniment. Because of this they offer pianist Michel Bisceglia the freedom to give free course to his sophisticated and expressive improvisations. The gained experience in the course of years in combination with the amazing atmosphere in the studio have resulted in the bonus-cd 'My Ideal', which has been added to the album. This bonus-cd
contains re-recordings with new interpretations of earlier released songs.
Tracklist 'singularity':
1. puccini
2. meaning of the blues
3. jasmine
4. lonely woman
5. choosing
6. singularity
7. augmented tree
8. don't explain
9. passion theme
Total Time: 57:00
Tracklist bonus album 'my ideal':
1. my ideal
2. the epic
3. out to sea
4. red eye
5. paisellu miu
6. a whiter shade of pale
7. n'n siata
Total Time: 41:00

Informationen
Michel Bisceglia Trio
www.michelbiscegliatrio.com
Original by Procul Harum "A Whiter Shade of Pale"