Michael Formanek Elusion Quartet - Time like this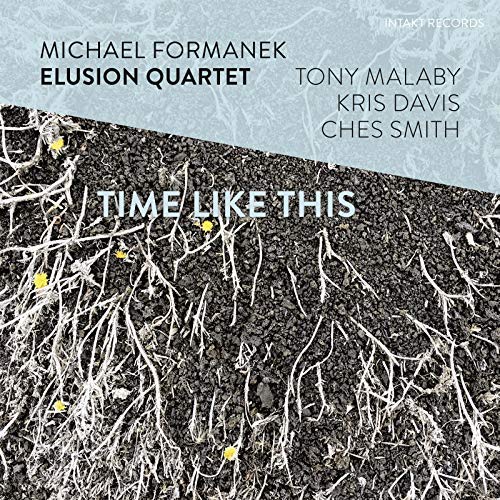 M
Intakt
Le contrebassiste Michael Formanek mène une carrière exemplaire qui lui a permis de multiplier les rencontres. Dès les années '70, il accompagne Joe Henderson, dans les années '80, Stan Getz et Gerry Mulligan et, par la suite, les saxophonistes Tim Berne ou Marty Ehrlich ou les pianistes Harold Danko, Uri Caine ou Fred Hersch. 
Pour le public belge, avec Jeff Hirshfield à la batterie, il reste le contrebassiste de la rythmique américaine de Pierre Vaiana pour Shakra (le meilleur album du soprano belge), en compagnie de Salvator Bonafede, à l'époque pianiste de Joe Lovano.
Au sein de son Elusion quartet, on retrouve le saxophoniste Tony Malaby saxophoniste du Liberation Music Orchestra de Charlie Haden (concert au Middelheim), de l'Electric Be Bop Band de Paul Motian ou du Trio + 2 de Fred Hersch. Tony Malaby a aussi enregistré des albums en Europe, notamment avec Daniel Humair: Pas de danse avec le contrebassiste Bruno Chevillon, Full Contact en trio avec Joachim Kuhn.
Au piano, Kris Davis qui a gravé en solo Aerial Piano, a formé un quartet avec la guitariste Mary Halvorson et enregistré Duopoly, une série de duos, notamment avec Tim Berne (as), Don Byron (cl) ou Bill Frisell.
A la batterie, au Haitian Tanbou ("barrel drum" de Haïti) et au vibraphone, Ches Smith, qui a croisé le guitariste Marc Ribot, le saxophoniste Tim Berne (4 albums ECM), John Zorn et Dave Holland.



Pour Time like this, les sept compositions personnelles de Formanek mettent bien en valeur la sonorité ronde de sa contrebasse, notamment dans les intros contrebasse-batterie de Culture of none ou That was then ou le beau dialogue contrebasse-ténor de The new normal. Mais aussi la sonorité incisive du soprano de Malaby (This may get ugly), sa sonorité rauque au ténor (les autres plages).
Le piano de Kris Davis se montre inventif tout au long des 7 compositions originales et Ches Smith passe de la batterie au vibraphone (Down 8 up, The soul Goodbye) avec un souci des nuances.
© Claude Loxhay