Mia Zabelka/Glen Hall – The Quantum Violin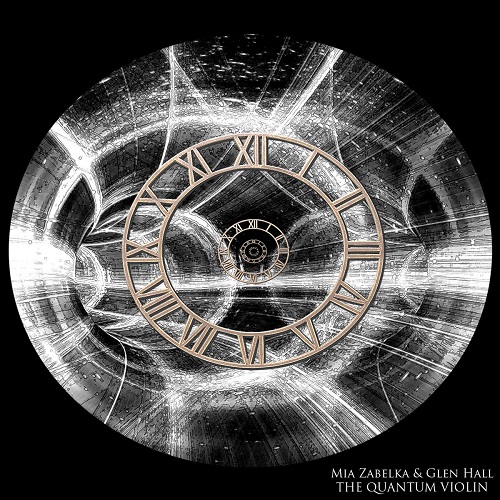 M
FMR Records
Helemaal uit de electro-nevelen en onbekende improvisatie-spiralen verschijnt deze UFO met aan boord het duo Mia Zabelka en Glen Hall.
Toch even de hoestekst citeren voor wie verder wil lezen en vooral beluisteren nadien. "Atomized, interpolated, reconfigured, mosaiced, cut up, transported to the sonic territories of quantum interactions". De Oostenrijkse violist, vocalist en sound artiest Mia Zabelka (Elliott Sharp, Lydia Lunch) en de Canadese sound artiest Glen Hall (Roswell Rudd, Cecil McBee, Lee Renaldo) werkten een theorie uit over het manipuleren van klanken en tijd en vatten dit samen in een uur lang experimenteel luisterspel. Elke aansluiting met gekende structuren rond harmonie, ritme en melodie werd achtergelaten. Veertien puzzelstukjes die dezelfde titel meekregen ('The Quantum Violin # 1 – 14') maar telkens anders klinken ondanks hetzelfde basisinstrument. Sublagen met clusters gegenereerd door een "Quantum Oscillator", repetitieve dronereeksen, "prepared" piano getokkel, snarengeschuifel op de viool, softwareprogramma's ontworpen bij IRCAM en nog veel meer werden in een mix gedraaid met een welbepaalde visie voor ogen: het onhoorbare hoorbaar maken. Een sonische mash-up van resonantie, dissonantie en aanverwante geluidsexperimenten.
IJzingwekkend futuristisch maar ook heel poëtisch en vooral wetenschappelijk onderbouwd. Zabelka omschrijft zelf haar creaties als "scientific music". Fans van de Koningin Elisabethwedstrijd voor viool krijgen hier gegarandeerd nachtmerries van. Trouwe lezers van bladen als Gonzo en The Wire daarentegen zullen in hun nopjes verkeren.
Een soundtrack die perfect zou passen bij de serie 'Raised By Wolves'. Even enigmatisch en ondoordringbaar maar ook boordevol onderliggende referentiepunten voor de kenners.
© Georges Tonla Briquet

Musici:
Mia Zabelka: viool, stem, electronics, "alien objects"
Glen Hall: Quantum Oscillator, OMax, CataRT
+
Kenji Siratori: stem

https://miazabelka.bandcamp.com/album/the-quantum-violin
https://www.miazabelka.com/miazabelka-projects/the-quantum-violin/
https://www.justimprovise.com.au/glenn-hall