Mehmet Polat & Embracing Colours - Quantum Leap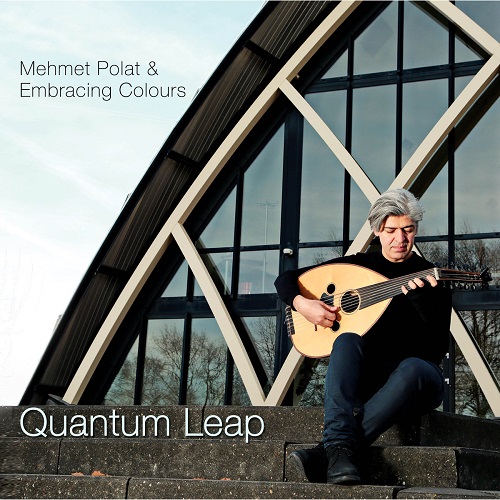 M
Aftab Records
De ud-speler Mehmet Polat, uit Turkije afkomstig en in Amsterdam residerend, absorbeert Oriëntaalse, Afrikaanse en Westerse invloeden en tast zo de muzikale grenzen af. In zijn album Quantum Leap speelt improvisatie een belangrijke rol en dat leidt met het ensemble Embracing Colours tot bepaalde jazzinvloeden.  
De groove zit er stevig in met bassist Hendrik Müller (Duitsland) en drummer Joan Terol Amigo (Catalonië), die elkaar ook ontmoetten in Amsterdam. Een bijzondere toets voegt accordeonist Bart Lelivelt (o.a. Charivari trio) toe.
Mehmet zet de muzikale lijnen uit met fraai uitgesponnen thema's (Expanded Lives, Playing The Time Away, Contemplation, Aftermath) en soli (puur in Conveyed Emotions) waarop de band anticipeert met een glansrol voor accordeonist Bart Lelivelt (Dancing Statues, Playing The Time Away, Falseta Mesopotamica) en fijne interventies van bassist Hendrik Müller (Segue) en drummer Joan Terol Amigo (A Deserved Distraction).
Maar Quantum Leap kent nog een extra dimensie door de speciale gasten: de stem van Cigdem Okuyucu (Falseta Mesopotamica), de kamancha-meester Imamyar Hasanov  (Breathing Again) en de Cypriotisch-Nederlandse violist Michalis Kouloumis (Entropy). Met Eric Vloeimans op trompet in het nummer All Connected drijft de jazztoon nog extra boven. Tot slot vat Aftermath nog eens de kern van het geheel samen: van traditie tot hedendaags, van een makam improvisatie tot een jazz gerelateerde progressie. Mehmet Polat kleurt het tijdloos in met zijn Embracing Colours.
Quantum Leap is rijkelijk melodieus en deint uit over vele muzikale horizonten. Het zijn hartverwarmende klanken voor elke rechtgeaarde melomaan die uit is op ontdekking, passie en beleving. Een must-have album voor het desert island!
© Bernard Lefèvre




Musici:
Mehmet Polat (ud en composities)
Joan Terol Amigo (drums)
Hendrik Müller (bas)
Bart Lelivelt (accordeon)
+ gasten:
Cigdem Okuyucu (zang)
Eric Vloeimans (trompet)
Imanyar Hasanov (kamancha)
Michalis  Kouloumis (viool)