Max Roach's Freedom now suite: We insist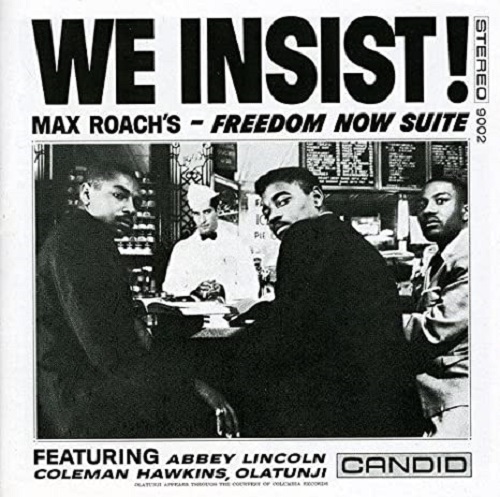 M
Candid
feat. Abbey Lincoln, Coleman Hawkins, ...
Le label Candid réédite ici en cédé un LP mythique des années 60 (époque des révoltes des étudiants noirs dans le Sud qui ont vite trouvé écho chez Martin Luther King), soit cette 'Freedom now suite', une des pierres angulaires du mouvement de révolte de la communauté noire américaine, au même titre que la composition 'Alabama' de Coltrane, en réponse à une attaque du Ku Klux Klan contre une église baptiste de Birmingham, que l'album 'Malcolm semper Malcolm' d'Archie Shepp dédié à Malcolm X ou, en littérature, 'The fire next time' de James Baldwin.
Max Roach est un batteur majeur dans l'histoire du jazz: il a joué avec Charlie Parker, Charles Mingus, Bud Powell, Clifford Brown, Dizzy Gillespie, Stan Getz, Sonny Rollins et Duke Ellington (le fameux 'Money Jungle' en trio avec Mingus).
Pour cet album dans lequel la voix - chant comme vocalises - est essentielle au niveau du message, il a fait appel  à Abbey Lincoln qu'il a aussi croisée pour 'Moon faced and starry eyed' ou 'Sound as a Roach' et qui, par ailleurs a enregistré  'Sings Billie' et 'Love for sale'.
Roach est ici entouré de huit musiciens. A la trompette, la sonorité fluide de Booker Little qui a joué avec Coltrane et Dolphy. Au trombone, sonorité "grasse" et puissante, Julian Priester qui a fait partie du quintet de Roach, joué avec Sam Rivers, Blue Mitchell, Sun Ra ou Herbie Hancock. Au saxophone ténor, d'une part, une des légendes du jazz, Coleman Hawkins mais aussi Walter Benton qui a fait partie du Sextet de Julian Priester et joué avec Clifford Brown. A la contrebasse, James Schenck qui a côtoyé Horace Silver comme Clark Terry. Aux congas, le bouillant Nigérian Olatunji et aux multiples percussions, Thomas Duval et Ray Mantilla qui a côtoyé Art Blakey.
L'album s'ouvre sur deux collaborations avec l'auteur interprète Oscar Brown, collaboration inaugurée en 1959 lors de la Emancipation Proclamation.
D'abord, 'Driva Man' qui dénonce le rapport de force de certains esclavagistes qui obligent leurs esclaves noires à avoir des relations sexuelles avec eux. C'est la sonorité chaude de Hawkins qui répond au chant virevoltant d'Abbey Lincoln à la voix révoltée aux accents imprécateurs.
'Freedom Day' est un vibrant hommage à l'Emancipation Proclamation. Ici, le chant majestueux d'Abbey est prolongé par la trompette fluide de Booker Little et le ténor de Walter Benton.
La troisième collaboration avec Oscar Brown est 'All Africa' dans lequel, après une introduction, Abbey Lincoln scande le nom des différents peuples d'Afrique avec réponse d'Olatunji  en dialecte yoruba.
La dernière plage, 'Tears for Johannesburg' évoque, en parallèle aux massacres de Sharpeville, l'horrible régime d'apartheid d'Afrique du Sud, un apartheid que les noirs américains connaissent eux-mêmes.
Enfin, à mon sens, la pièce maîtresse de l'album est 'Triptych', le dialogue entre Roach et les vocalises de Lincoln, une confrontation qui permet à la chanteuse d'explorer tout son spectre vocal, du cri au soupir: 'Prayer' évoque le cri de désespoir d'un peuple opprimé. 'Protest' reflète la rage cathartique qui en résulte et 'Peace' est une réponse au devoir accompli de révolte. "You can rest now because you've worked to be free" (Roach).
Un vrai document d'une grande valeur artistique.
© Claude Loxhay
Une collaboration JazzMania / Jazz'halo





N.B.: L'album avait aussi été édité en LP par Philips (PO8636) avec des notes de l'Allemand Joachim Berendt.
Texte dans 'Ecritures 68', revue du Cercle de Littérature de  l''Ulg.