Matthias Spillmann Trio - Live at The Bird's Eye Jazz Club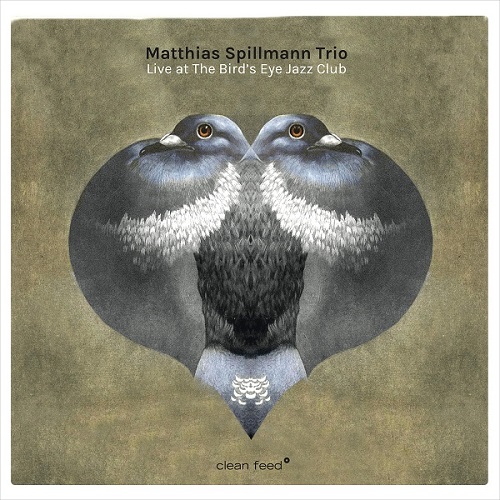 M
Clean Feed CF516CD
Trompettist Matthias Spillmann trok al de aandacht met de geflipte kamermuziekjazz van zijn groep Mats Up. Onlangs bracht hij een live opname in trio uit op Clean Feed Records, het Portugese label dat avontuurlijke muziek in de kijker zet. Deze keer duikt de Zwitser in de geschiedenis van de jazz met nummers van Ellington, Ornette en zelfs St. Louis Blues. Dit gebeurt met een open blik en gesteund door prima kompanen. Andreas Lang is een Deense bassist die in Berlijn furore maakt en drummer Moritz Baumgärtner is een jong Zwitsers talent.
In het trio zonder piano of gitaar kunnen alle tierlantijntjes meteen overboord  gezet. Met zijn drieën dansen de muzikanten rond de melodie en het ritme, waarbij Lang en Baumärtner af en toe de registers behoorlijk opentrekken. Zo krijgen Fort Worth van Joe Lovano en Ornette Colemans Una Muy Bonita een stroomstoot waardoor de energie volledig vrijkomt. Bij Peace van diezelfde Ornette of bij  St. Louis Blues gaat het tempo lager waardoor de nadruk meer op de melodie komt te liggen en zorgt de ritmesectie voor contrast met die mooie toon van de trompettist. A Flower Is A Lovesome Thing van Strayhorn  en Kinderlied #1 - een eigen compositie van Spillmann - vervolledigen de cd.



Met die knappe toon hem eigen zou Matthias Spillmann zomaar voor de galerij kunnen spelen, maar net als in zijn andere groep Mats Up lijkt hij er zich van bewust dat enkel mooi spelen een valkuil kan zijn. Met een dosis creativiteit vindt Spillmann ook in dit trio een oplossing om het voor de hand liggende pad te ontwijken. Geen snelle rit over de hoofdbaan, maar een reisje via kleinere wegen dat je ook op plekken brengt waar je anders niet zou komen.
Meteen levert dit een fijne en spannende cd op. Nooit gedacht dat St. Louis Blues, zonder als een parodie te klinken, op een Clean Feed cd te horen zou zijn.
© Iwein Van Malderen
Deze recensie verschijnt ook op draaiomjeoren.com