Matthew Halpin - Agreements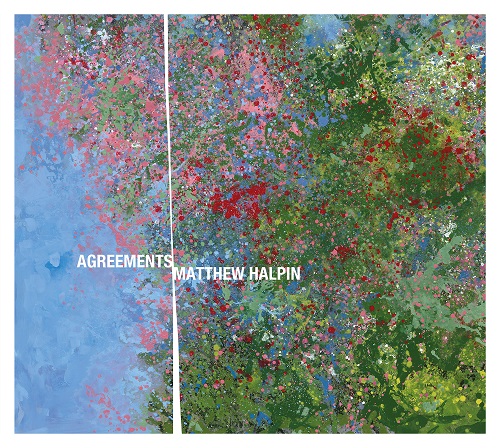 M
Frutex Tracks
Der aus Irland, genauer gesagt aus Dublin stammende, am Berklee College of Music in Boston ausgebildete und nunmehr in Köln lebende Saxofonist und Komponist hat nachstehend genannte Musiker um sich geschart, um das vorliegende Album einzuspielen: Kit Downes (hammond organ), Hanno Busch (electric guitar), Sergio Martinez (percussion) und Sean Carpio (drums). Auf dem Schlussstück des Albums namens "Sleep" sind die Sängerinnen Veronika Morscher, Rebekka Salomea Ziegler und Laura Totenhagen zu hören. Zwischen den Musikern bedurfte es keiner Übereinkunft, wie der Albumtitel suggeriert, denn Halpin hatte sich die Musiker ja bewusst ausgesucht, um auf eine gemeinsame Klangreise zu gehen. Zum Prozess der gemeinsamen Erarbeitung des Albums lesen wir in den Liner Notes die nachstehende Ausführung von Halpin: "The process was simple. I gave them the music, we played it and it was  recorded. Some First Takes made it onto the record but what's even more telling, one recording on the album had even been made on the rehearsal day. The sound engineer had decided to record the rehearsals as well, and that turned out to be a stroke of luck. I had no interest at all in giving myself the lead role in the band. Sure, as the band leader I'm the decision-maker, but as an instrumentalist I was more interested in decorating, redistributing, directing energy and allowing myself a spotlight at certain moments, but also giving those spots to the others. When I play a solo, I am always aware about what could or should happens afterwards and how to prepare for that. So it was definitely not going to be a saxophone record. I respect the saxophone, but I respect the music a lot more."
Nach dem Eröffnungstitel tanzt der Zuhörer mit dem Teufel, denn "Dancing with the Devil" steht auf dem Programm. Aber zuvor mischt  sich in dem ersten Stück der feine Klang der Hammondorgel mit dem sanften, teilweise gebrochenen Gebläse des Saxofons: "To-Do Today, To-Do Dismay". Schlagwerkrausch ist zu vernehmen. Pling und Plong ist auszumachen, wenn Hanno Busch die Saiten anschlägt. Nervös agiert das Schlagwerk im Weiteren. Dicht ist der Klangteppich, den Kit Downes knüpft. Verhallende Vibrationen sind außerdem Teil des inszenierten Klangraums. Sie enteilen am Ende im Off. Der Schlagzeuger gibt den Takt vor, wenn der Teufelstanz beginnt. Folgt man Halpins Linien, dann ist man in einem Auf und einem Ab eingebunden. Flotte Schrittfolgen fordert Matthew Halpin obendrein, wenn er nachfolgend seinen Holzbläser schnurren lässt. Kristalline Beigaben sind ab und an auch zu vernehmen. Im Diskant bewegt sich der Organist im Fortgang des Stücks. Dazu sind treibende Schlagwerkakzente gesetzt worden. Und dann, ja dann scheint auch die Ekstase nicht mehr fern, dank an den Schlagzeuger und den Saxofonisten . Angesichts des Tempos des Stücks geht es bei "The Beach" nicht um entspanntes Chillen am Strand, oder? Eher hat man das Bild von waghalsigem Kite Surfen und Beach Volleyball im Sand vor Augen: U 30 entspannt mit sportlicher Aktivität. Derweil fängt Halpin die auslaufenden Wellen des Meeres ein, so könnte man sein Saxofonspiel auch verstehen. Meeresrauschen ist außerdem dem Schlagzeuger zuzuschreiben, dessen Stocke wild über die Becken jagen. Ein wenig Beruhigung in das Miteinander am Strand bringt der Organist ins Spiel ein. Danach ist jedoch wieder das fordernde Saxofon auszumachen. Lazy Sunday Afternoon on the Beach sieht anders aus!
Ein wenig Fusion und Jazz Rock atmet "Swings und Roundabouts". Schwünge  und Kreisverkehre? Nein, Schaukeln und Karusselle auf einer Kirmes meint der Titel und im übertragenen Sinn auch den Ausgleich von Gewinn und Verlust. Komplizierter Kontext rund um einen Kompositionstitel, oder? Organist und Saxofonist stehen dabei im Fokus, vereinen sich zu einem Klangrausch. Spitze und zerbrechliche Klangfragmente nimmt der Zuhörer bei "Sit Up and Shut Down" wahr, eines der kürzesten Stücke des Albums und eher als Zwischenspiel zu kennzeichnen. Mit einer Note Funk kommt "Awkward Handshakes" daher, dank in dieser Beziehung an Hanno Busch und Kit Downes. Abschließend noch ein Wort zu "Sigh for Sam": Zart bläst Halpin sein Saxofon. Dumpfe Schläge des Schlagzeugers dringen nach und nach ans Ohr des Zuhörers. Das Bild von einem steten Wind, der mit dem Laub der Bäume spielt, kann dem einen oder anderen beim Zuhören in den Sinn kommen. Zudem kann man das Bild vor Augen haben, wie der Sand einer Düne Sandkorn für Sandkorn abgetragen wird und davonweht. All dies ist im Kern eine bildhafte Übertragung des Titels, der vom Seufzen redet. Und fürwahr Halpin bringt seinen Holzbläser wahrhaftig zum Seufzen!
© ferdinand dupuis-panther

Infos
Tracks
1. To-Do Today, To-Do Dismay (04:24)
2. Dancing with the Devil (05:34)
3. Dog Day Afternoon (03:47)
4. The Beach (04:47)
5. Swings and Roundabouts (05:31)
6. Sit Up and Shut Down (00:44)
7. Awkward Handshakes (03:18)
8. Pop Fiction (04:57)
9. Treetown (02:49)
10. Sigh for Sam (04:40)
11. Sleep (05:05)

www.matthewhalpinmusic.com
www.frutextracks.de