Matteo Di Leonardo - Sketches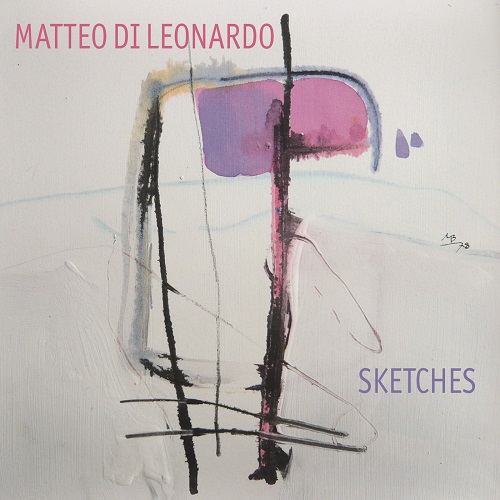 M
September
De Italiaanse gitarist Matteo Di Leonardo vervolmaakte in 2016 zijn jazzgitaarstudies aan het Conservatorium van Brussel. Voor dit debuutalbum Sketches omringt hij zich met landgenoten uit de Europese en dus ook Brusselse jazzscene.
Pianist Claudio Filippini won prestigieuze prijzen (Eerste prijs solopiano - Yamaha Music Foundation of Europe 2002 en de Massimo Urbani Award 2003) en realiseerde enkele albums op het Italiaanse label CamJazz.
Saxofonist Filippo Bianchini, geboren in Orvieto maar snel verhuisd naar Rome, verblijft sinds 2013 in Brussel en nam hier in september 2015 zijn eerste album Disorder At The Border op, samen met Nicola Andioli, Armando Luongo en Jean-Louis Rassinfosse, gevolgd door een tweede album, Le Voyage, in september 2017, een hommage aan Salvatore Adamo.
Contrabassist Dario Piccioni, geboren in Rome, behaalde zijn master aan het Brusselse conservatorium en kreeg les van Jean-Louis Rassinfosse en Michel Hatzigeorgiou. Hij bracht in 2016 een eigen project onder de naam Jimbo Tribe uit.
Drummer Armando Luongo behaalde een bachelor in jazz in Salerno in 2010 en een master aan het Conservatorium van Den Haag in 2012 waar zijn docenten o.a. Eric Ineke, Joost Patocka, Stefan Kruger en John Ruocco waren. In 2009 kreeg hij een beurs om in het Brussels Conservatorium les te volgen bij Bruno Castellucci. Hij behaalde al verschillende prijzen, o.a. op Dinant Jazz Nights 2010 met Unexpected 4, woont in België en speelde met zowat alle Belgische jazzgroten. 



Samen vormen ze een kwintet waarin Matteo Di Leonardo als leider tekent voor composities en arrangementen. Hij schrijft swingende, moderne jazz met een aanstekelijke groove, die in het nummer Smoke On Your Eyes wordt aangewakkerd door de présence van gastsolist Philip Catherine. Daarin voel je bij de uitgesponnen eerste versie van 9 minuten het potentieel van Di Leonardo's talent als arrangeur. In de bonustrack van Smoke On Your Eyes steelt Philip Catherine de show.
Het swingt in het album Sketches helemaal vanaf het eerste nummer (Subject), gaat uptempo verder in Smash And Fix, telkens met lyrische gitaaraccenten en -soli, mooi ondersteund door de ritmesectie en opjagende piano- en saxsoli. Ook G Day en Brain Storming kennen die heel gearrangeerde interactie. Kiodos vormt een rustpunt en ook het slotnummer Logical Consequences drijft op een lieflijk thema. Daarin onderga je helemaal het gevoelige lyrische karakter van Di Leonardo die zijn gitaar naar grote voorbeeld Catherine graag wil laten zingen.
Sketches van het jonge gitaartalent Matteo Di Leonardo is een beloftevol debuut, dat we graag als een volwaardig tableau in de toekomst zien ontwikkelen. Je kan het releaseconcert van Sketches beleven in Jazz Station op 5 mei 2018, zij het in de onderstaande bezetting als kwartet (zonder piano).

© Bernard Lefèvre


MUSICI:
Matteo Di Leonardo (gitaar, composities en arrangementen)
Filippo Bianchini (tenorsax, altsax)
Claudio Filippini (piano)
Dario Piccioni (contrabas)
Armando Luongo (drums)
+ gast: Philip Catherine (gitaar)