Martin Wind/Philip Catherine/Ack Van Rooyen - White Noise (jpg)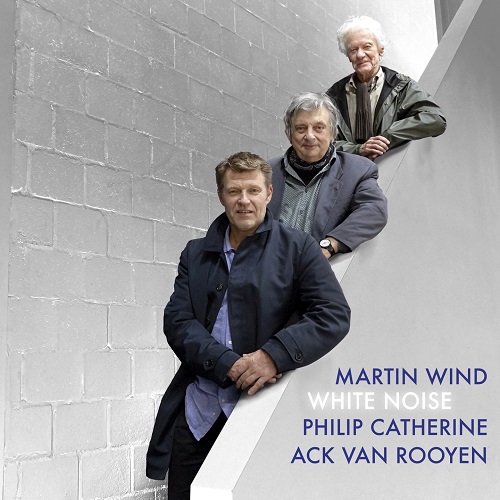 M
Laïka Records
Il y a six ans sortait sur le label ACT « New Folks », la première collaboration entre le contrebassiste allemand Martin Wind et le guitariste Philip Catherine. Comme le rappellent les notes de pochette, le contrebassiste a très jeune été séduit par l'album de Philip Catherine en duo avec Niels-Henning Ørsted Pedersen, « The Viking » sorti en 1983.
Voici Wind et Catherie à nouveau réunis, en trio cette fois, avec une autre « icône » et inspiration du contrebassiste : le bugliste Ack van Rooyen. Difficile de ne pas penser au trio que formait Philip Catherine avec Chet Baker et Jean-Louis Rassinfosse dont six albums officiels témoignent de la longévité et parfaite connivence. Pensée d'autant plus prégnante que la sonorité du bugle n'est pas loin de faire penser à celle de la trompette de Chet, surtout sur les ballades et les trois standards.
D'entame, c'est le contrebassiste qui à l'archet attaque, le mot n'est pas faible, la composition de Kenny Wheeler « Canter » avant de lancer le tempo en pizzicati pour le thème exposé par Ack van Rooyen, puis par Philip Catherine. « Everything I Love » est un bel exemple du travail de la mélodie par le trio, le chant mélodique des trois partenaires se fondant dans le rythme.
Certes, le nonagénaire Ack Van Rooyen n'a plus le volume qu'on lui connaissait lorsqu'il accompagnait Barney Wilen ou Kenny Clarke à Paris, mais son jeu tout en souplesse, chaleur et en douceur sonore fait merveille dans ce type de formation, particulièrement sur sa composition « Autumn Bugle ». Mais c'est le contrebassiste Marti Wind qui est surtout en évidence de par ses trois compositions – « White Noise », « The Dream », « A Genius and a Saint » - et aussi par sa belle sonorité, notamment dans l'intro de « I Fall in Love Too Easily ». Et que dire de Philip Catherine si ce n'est qu'égal à lui-même, il brille par les couleurs de ses solos, son son de guitare reconnaissable entre mille et ses ponctuations rythmiques pleine de finesse.
Voilà un album qui si il ne renouvèle pas le genre du trio tp-gt-cb, donne beaucoup de plaisir à l'écoute.
© Jean-Pierre Goffin