Martin Wind / Philip Catherine / Ack Van Rooyen - White Noise (cl)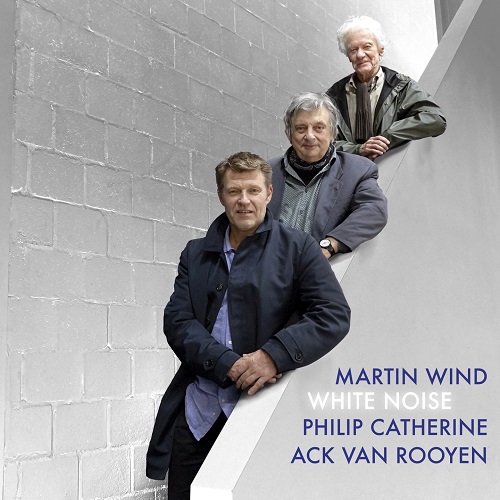 M
Laika / Music and Words
Le contrebassiste allemand Martin Wind est né en 1968. Il a étudié à Cologne ainsi qu'à la New York University et a pris des cours avec Mike Richmond qui a joué avec Stan Getz, Lee Konitz et le groupe Mingus Dynasty. Il a formé le Dreikland Trio, avec le saxophoniste Matthias Erlenwein (album Blue Note avec John Abercrombie en invité). Il a aussi enregistré Gone with the wind avec le pianiste Bill Mays mais aussi Get it et Turn out the stars, dédié à Bill Evans, avec le saxophoniste Scott Robinson.
Très admiratif du talent et de la carrière de Philip Catherine, il l'invite à enregistrer le duo New Folk, en 2014. Voici un nouvel album, en trio, avec le bugliste néerlandais Ack Van Rooyen. Né en 1930, il a poursuivi ses études au Conservatoire de La Haye et a participé à un nombre impressionnant de grandes formations: l'orchestre de Peter Herbolzeimer (auquel a aussi participé Bert Joris), le Big Band de Kenny Clark et Francy Boland, le Metropole Orchestra, le Dutch Jazz Orchestra. Il a enregistré avec Paul Heller (le saxophoniste ténor choisi par Michel Herr pour le Positive Tentet), avec Charlie Mariano (Some kind of changes) et Eberhard Weber (Encore pour ECM).
Une telle formation bugle-guitare-contrebasse fait immédiatement penser au trio de Chet Baker avec Philip Catherine et Jean-Louis Rassinfosse (Crystal Bells, Estate) mais il existe d'évidentes différences. Par rapport à la sonorité diaphane et frêle de Chet, Ack Van Rooyen possède un son plus éclatant. Par ailleurs, La contrebasse est ici davantage mise en avant: écoutez l'intro jouée à l'archet puis en pizzicato de Canter, composition de Kenny Wheeler.
Si le trio reprend quelques standards, comme les ballades But beautiful ou I fall in love too easily joué par Chet, le répertoire est aussi différent. Martin Wind étant à la base du projet, il propose trois compositions originales: White Noise avec une magnifique intro de Philip Catherine, The Dream et A genius and a saint, avec de beaux dialogues entre guitare et contrebasse). De son côté, Ack Van Rooyen signe Autumn Bugle  à la sonorité ouatée. Et Philip Catherine, dans tout cela? Il a toujours cette sonorité immédiatement reconnaissable, cette note qui chante et sublime les mélodies.
Comme le dit Marmande, " Philip Catherine est un des derniers romantiques du jazz. Il ne joue pas de la musique, il est la musique".
© Claude Loxhay
Une collaboration JazzAround / Jazz'halo