Mark Alban Lotz - Solo Flutes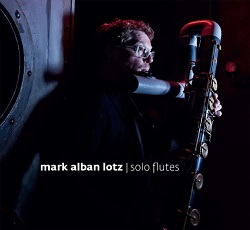 M
LopLop (www.loplop.nl)
Mark Alban Lotz (fl, a-fl, b-fl, prepared fl, voc)
De discografie van de Duitse Utrechter Mark Alban Lotz is behoorlijk gevarieerd. Jazz staat er naast Afrikaanse muziek, vrije improvisatie naast Cubaans. De enige rode draad in zijn werk is het instrument dat hij bespeelt, want dat is zijn lust en zijn leven: de fluit, in al zijn verschijningsvormen.
Zo bouwde hij een eigen basfluit van pvc, en dat bijzondere exemplaar speelt een grote rol op zijn eerste solo-cd: 'Solo Flutes'. Een zestal improvisaties met als ondertitel 'Bass Flute Sequenza' (een knipoog naar Luciano Berio, dunkt mij) vormen de ruggengraat van het album. In deze stukken onderzoekt Lotz de klankmogelijkheden van het enorme instrument. Wat we horen, zijn borrelende geluiden (de knorrende maag van 'Hungry III'), amechtig gehijg en gepiep ('The Fish on the Dry' – iets te letterlijk vertaald Engels, overigens). Maar ook herbergt de basfluit spannende percussieve mogelijkheden ('Albert Speaks') alsmede een boventoonsbereik die aan een didgeridoo doet denken ('PVC Mantra').
Op de andere fluiten tovert Lotz weer geheel andere muzikale werelden tevoorschijn. Hij kan overtuigend een Afrikaans liedje neerzetten ('Piccolo for Makeba') of een zelf geschreven jazzstandard ('A Fine Winter') en een passend eerbetoon aan een grote held ('For Rahsaan').
Maar het allersterkst aan 'Solo Flutes' is dat Lotz zich niet verliest in deze veelheid aan sferen, speeltechnieken en genres. Hij blijft zichzelf, een muzikant in de 21ste eeuw die zich niet hoeft vast te pinnen op één richting, zo lang hij maar herkenbaar is. En dat is Mark Alban Lotz zeer zeker, in zijn rol als muzikaal verhalenverteller, met een speels, onnadrukkelijk gevoel voor humor. Van een fan van Rahsaan Roland Kirk zouden we ook niet minder mogen verwachten.

Herman te Loo