Marieke Koopman - Chapter One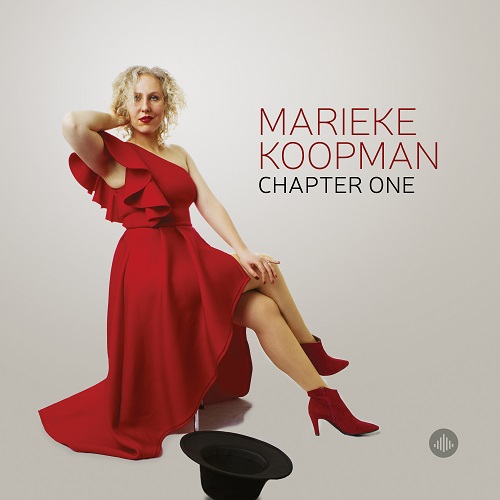 M
Challenge Records
Marieke Koopman groeide als dochter van dirigent Ton Koopman op met barokmuziek en vooral Bach. Samen met haar vader en het Amsterdam Baroque Orchestra and Choir trad Marieke vanaf 2012 in Europa op.
In het najaar van 2019 richtte ze zich op een nieuw project waarin ze haar liefde voor jazz van de swingperiode ontplooit, haar debuutalbum 'Chapter One'. Het is tegelijk een eerbetoon aan haar grootvader (Fréderikus 'Fré' Koopman) die als jazzdrummer ook swingliefhebber was (het inlegboekje toont een foto van de jaren 40).
Ze combineert haar klassieke achtergrond met swingjazz tot een eigen interpretatie in een selectie van grootse standards van de jaren 30-40. Dat ze eigenzinnig omspringt met de Great American Songbook blijkt al dadelijk met Cole Porters 'Just One Of Those Things' waar ze vooral vertrekt van de lyrics om de melodie een vaart en energie te geven en de originele teksten helemaal tot hun recht te laten komen.
Hoe vertrouwd sommige klassiekers ook, Marieke neemt ze met de band en arrangementen van Thomas Welvaadt sprankelend en fris ter harte in 'The More I See You', 'I Get A Kick Out Of You', 'Taking A Chance On Love', 'With A Song In My Heart'.
Ze covert in kwartet met Bob Wijnen, Jos Machtel, Mitchell Damen 'Everything I've Got Belongs To You', 'Get Out Of Town', 'Things Are Looking Up' 'It Had To Be You'.
Nog heel bijzonder covert ze in duo met haar vader Ton 'Someone To Watch Over Me', met contrabassist Jos Machtel 'Looking For A Boy' en met pianist Bob Wijnen 'Stardust'.
Dat jazz in haar genen zit, blijkt uit de doorleefde interpretaties. Ze zoekt telkens naar de verhalen en emoties en vertolkt die met een energieke, melodische drive tot gevoelsmatige improvisaties.
De opnames vonden plaats bij Wisseloord Studios, Hilversum in november 2020 door Fieke van den Hurk. Anton Burger, Jasper Staps en Thomas Walvaardt stonden in voor de arrangementen, Rembrandt Frerichs was de producer.
© Bernard Lefèvre




Musici:
Marieke Koopman (zang)
Thomas Welvaadt (trompet)
Jo Hermans (trompet)
Jasper Staps (altsaxofoon)
Daniël Daemen (tenorsaxofoon)
Nils van Haften (baritonsaxofoon)
Vincent Veneman (trombone)
Bob Wijnen (piano)
Jos Machtel (bas)
Mitchell Damen (drums)
Track 4 met Ton Koopman