Maria Mendes | Metropole Orkest | John Beasley - Saudade, Colour of Love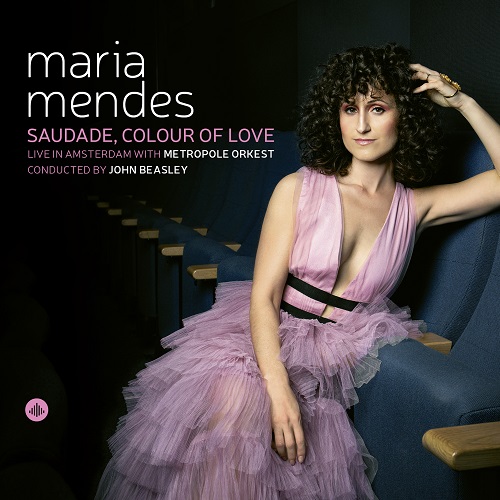 M
Challenge Records
Zangeres Maria Mendes combineerde haar liefde voor de Portugese roots en de karakteristieke muziek (fado) met haar eigen jazzspirit in haar derde album 'Close To Me' (2019). Op advies van bassist Jasper Somsen werd daarbij John Beasley ingeschakeld voor het arrangeren en produceren van Portugese folk songs. Bovendien tekende ze zelf voor origineel werk: 'Dança Do Amor' . En ze kreeg eveneens in 2018 een speciaal voor haar geschreven tune van Hermeto Pascoal ('Hermeto's Fado For Maria') aangeboden.
Haar droom kwam helemaal uit toen ze dit project live gestalte mocht geven, de muziek nog verder mocht uitwerken en het geheel meer ruimte geven dan mogelijk is bij een studio opname.
De live-captatie van dit album 'Saudade, Colour of Love' gebeurde in Amsterdam bij Muziekgebouw aan 't IJ in mei 2022 met nog nieuwe stukken en een aangepaste orkestratie. Het Metropole Orkest, John Beasley en Jasper Somsen vormen de vertrouwde kernleden, maar anders dan bij de studio-opname nodigde Maria Mendes Cédric Henriot op piano en Mário Costa op drums uit.
Naast de herwerkte stukken van het studio-album viel de keuze op nog enkele andere prachtige composities uit het grootse Portugese liedrepertoire: 'Com Que Voz', 'Quando Eu Era Pequenina' en het samen met Beasley geschreven 'Meu Pobre Capitão'.
In 'Verdes Anos' schittert Jasper Somsen op contrabas over de verrukkelijke stem van Mendes met subtiele interactie van piano en drums en een fraaie apotheose van het orkest.
John Beasley laat zich solerend (op KeyWi!) opmerken in 'Foi Deus' en 'Hermeto's Fado For Maria'. Pianist Cédric Hanriot ondersteunt impressief solerend in 'Tudo Isto E Fado','E Se Não For Fado' en 'Dança Do Amor'. 'Quando Eu Era Pequenina' mag drummer Costa expressief openen. 
Maria Mendes evoceert wervelend de spirit van fado in 'Saudade, Coulour of Love' met haar eigen avontuurlijke ziel en expressie tot een hedendaagse dimensie met een blend van improvisatie als opstap naar jazz met een uitstekende ritmesectie en een excellerend Metropole Orkest bezield door John Beasley.

© Bernard Lefèvre




Musici :
Maria Mendes (zang, composities, arrangementen)
John Beasley (dirigent, arrangementen, KeyWi, toetsen, componist)
Cédric Henriot (piano, toetsen)
Jasper Somsen (contrabas)
Mário Costa (drums, percussie)