Maria Baptist: Piano Solo - Self-portrait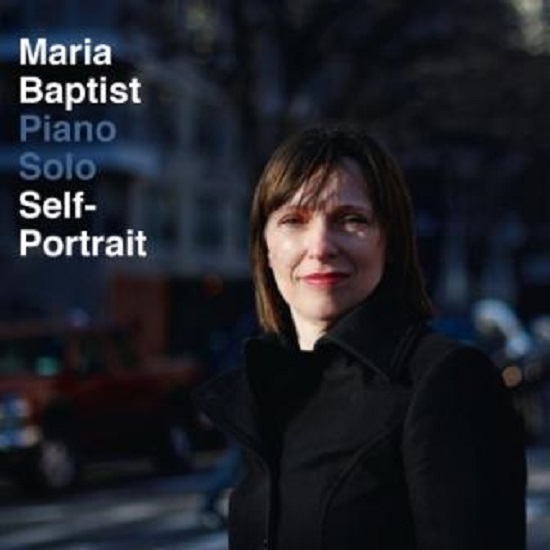 M
3030 Baptist 2014
Die Kraft für Ihre Musik scheint die aus Berlin stammende, zeitweilig in New York lebende Pianistin und Hochschullehrerin Maria Baptist augenscheinlich der Energie und Atmosphäre New Yorks zu verdanken. Kraftvoll und akzentuiert, überhaupt nicht ins Lyrische abgleitend – das ist das Spiel von Baptist, ob Solo oder mit ihrem Trio.
Bereits auf Ihrer Einspielung 'Gate 29' war der erste Titel der Solo-CD zu hören. Baptist entführt uns in ihren Dachgarten – 'Roof Garden'. Hier verweilen wir und schauen hinab in die Schluchten Berlins oder doch New Yorks – wir wissen es nicht wirklich. Mit ihren präzis gesetzten Klavierläufen lässt Baptist uns die Lichter der Großstadt entdecken. Zugleich haben wir Zeit zum Entspannen. Der Feierabendverkehr ist fern und dringt kaum an unser Ohr. Vielleicht geht auch gerade die Sonne über New Yorks Wolkenkratzern unter – oder? Neben diesem bereits zuvor veröffentlichten Titel wurden weitere elf Titel eingespielt, auch Kompositionen, die sich mit dem Einbruch der Nacht ('Falling Night') und der blauen Stunde ('Blue Hour') befassen.
Hört man den "Klangwolken" zu, die die Berliner Pianistin in 'Falling Night' vor uns ausbreitet, so meinen wir, wir seien mitten in den Abenddämmerung, in der sich Menschen auf dem Weg machen, um in der Disco abzutanzen, in der Bar die Liebste oder den Liebsten zu treffen, um mit Freunden ein Glas Wein zu genießen. Oder tanzen gar Glühwürmchen durch die Nacht, die so lau und sommerlich ist, dass man die Nacht zum Tage machen kann?
Ruhiger, wenn auch stets mit dynamischem Duktus begleitet uns die Komponistin und Pianistin durch die 'Blue Hour'. Dass die Hände von Baptist über die Tasten tanzen, kann jeder bestätigen, der schon einmal in einem Livekonzert war. Doch das Spiel verliert sich nicht in banalen Klangformen. Stets kann man einen Wechsel aus ruhigeren und lauteren Passagen wahrnehmen.
Beinahe nervös geht es bezüglich des Spiels in 'Running' zu. Ja, man kann eine Vorstellung von Eile und Hast gewinnen, von kurzen Momenten des Luftholens und des Weiterlaufens, wenn auch hier und da ein Hindernis zu umschiffen ist. Bisweilen sind "schräge Harmonien" zu hören, die vielleicht für das eine oder andere Weghindernis stehen. Zugleich scheint sich auch die Bewegung zu verlangsamen und die Schritte scheinen weiter zu werden. Doch das ist nur für den Moment so und dann geht es, folgt man aufmerksam dem Tastenspiel Baptists, flott voran.
Tremolos oder nicht – jedenfalls geht es um den Tag, bevor ich dich traf ('The Day before I met you'), wenn das fünfte Stück der aktuellen, selbst produzierten CD zu hören ist. Von der Stimmung und den Harmonien her lehnt sich dieses Stück m.E. in wenigen Passagen an 'Roof Gardens' an. Eine Fuge und das Porträt einer Frau gehören gleichfalls zu den balladenartigen Kompositionen der von der Kritik hochgelobten Pianistin, die, so der WDR, "eine wahre Verführerin auf den schwarz-weißen Tasten eines Flügels" ist.
Getragen und von leicht melancholischer Stimmung geprägt scheint die Komposition 'The Moon stood still'. Sind Assoziationen an Matthias Claudius zufällig oder gewollt? Nach einem Abstecher auf die legendäre Rennstrecke von Berlin, die Avus, wo sich einst hochgezüchtete Rennmaschinen in die Nordkurve legten, begeben wir uns am Ende nach New York und genießen einen Morgen in dieser amerikanischen Metropole. Das Tempo des Spiels bei 'AVUS' ist hoch, und man kann sich daher gut die vorbeirauschenden Sportflitzer vorstellen, die auch für eine entsprechende Geräuschkulisse sorgen. Die ist heute jedoch nur noch eine Fußnote in der Stadtchronik Berlins. Doch Baptists Musik ist Gegenwart. Upps, ist da gerade ein Motorschaden passiert und die Mechaniker umkreisen in Hektik das Gefährt? Mit starken Basssequenzen fängt die Pianistin vielleicht ein weiteres Drama ein, da ein flotter Flitzer aus der Kurve getragen wird. Kopf an Kopf geht hingegen das Rennen der anderen Rennwagen weiter. Das setzt Baptist mit parallel gespielten Läufen der rechten und linken Hand vortrefflich um, oder? 'A Morning in New York' bildet den Ausklang des aktuellen Soloalbums. Und man fragt sich, was kommt als Nächstes? Eine musikalische Reise durch Mitte, Prenzlauer Berg oder auf den Kreuzberg? Man darf gespannt sein!

© ferdinand dupuis-panther

ENGLISH VERSION

The power of her music appears evident. Baptist was raised in Berlin but today she changes between Berlin and New York where she breathes its atmosphere for her genuine compositions. Powerful and accentuated, not lyrical - this characterises the style of Baptist's play, whether solo or with her trio. The first track of her solo album 'can be' is also included in her previous recording 'Gate 29'. Baptist takes us into her 'Roof Garden'. Here we can enjoy a stop and look down into the 'canyons' of Berlin or New York. With her precise piano runs Baptist helps us to discover the urban life. At the same time she gives us the time to relax whilst listening her piano sound. The rush hour traffic is distant and barely touches our ears. In our imagination we are watching the sun sets over New York's skyscrapers - right?
In addition to two previously released titles ten newly composed titles like 'Falling Night' and 'Blue Hour' were published on her Solo Piano CD. It seems that Baptist is presenting "clouds of sounds" in 'Falling Night' and we start to think we are facing the evening twilight, observing folks on their way to the dance hall or to a cocktail bar to meet their sweethearts or loved ones. Or even fireflies dance through the night, which is so mild and summery that you can turn night into day? Always a dynamic characteristic styleaccompanies us when the composer and pianist Maria Baptist enjoys her 'Blue Hour'. That the hands of Baptist dance across the keys, anyone can confirm whoever enjoyed her play in a live concert. However, the way of playing the keys does not mean Baptist prefers banal forms of sounds. Always one can perceive a change from quieter and louder passages.
Listening to 'Running' you can get an idea of haste and moments to taking a deep breath before starting to run again, though here and there is an obstacle to circumnavigate. Sometimes we can hear "oblique harmonies" referring to a barrier we face whilst running. At the same time, our movements seem to slow down. That's only for the moment and then she takes up pace again considering the speed of the tunes we can hear.
Tremolos or not - at least 'The Day before I met you' is on the agenda when the fifth piece of the current, self-produced CD can be heard. Taking into account the mood and the harmonies of this piece I think that few bars remind me to 'Roof Gardens'.
A 'Fugue in A minor' and a "Portrait of a woman' are ballad-like compositions of the highly acclaimed pianist Maria Baptist, who, as the WDR puts it, knows to create "a true seductress on the black and white keys of a grand piano". Marked by a slightly melancholic mood this is how I would characterise her composition 'The Moon stood still'. Are associations with a poem by the German poet Matthias Claudius accidental or intentional?
After a trip to the legendary circuit of Berlin, the Avus, where highly tuned racing machines once raced, we venture to New York at the end and enjoy a morning in the American metropolis. The pace of the composition 'AVUS' is high, and one can well imagine the whooshing sports cars, which also provide tremendous background noise. The AVUS, however, is today only a footnote in the Berlin Chronicle. Whoops, it sounds as if an engine damage and mechanical problems occurred or not? With strong bass sequences Baptist continues her composition whilst a brisk racer is carried out of the curve. At least that is what we can imagine when we listen to Baptist's solo performance. 'A Morning in New York' is the conclusion of the current solo album. You wonder what's next? A musical journey through Mitte, Prenzlauer Berg or the Cross Mountain? Baptist keeps us curious about what's next!
© ferdinand dupuis-panther/ thomas petersen

Informationen
http://www.mariabaptist.com