Marc van Vugt - Lonely Coyote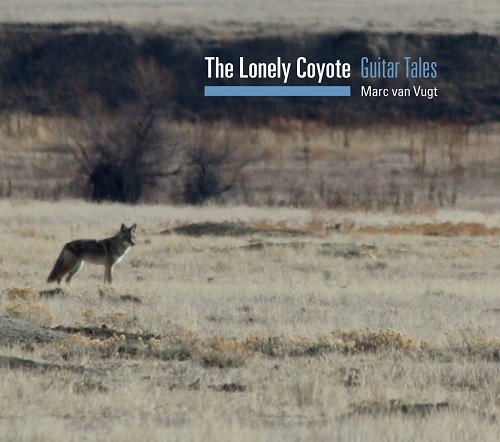 M
Baixim records
An album of acoustic guitar solos and duets is a demanding form, given the high standards set by people like Pat Metheny and Ralph Towner.
The quality of guitars, playing, composition and recording are all thrown into sharp relief. The sound of two guitars playing rich chords whose pitches overlap is always evocative but there is the risk of slipping into "new age" blandness. Marc van Vugt avoids that trap with inventive harmonies and syncopation; all the compositions are his own. He explains "I love writing for large ensembles, choirs and orchestras. For 'The Lonely Coyote' I decided to strip down my music to just me and my guitar. Not just one guitar: each song is played on a different acoustic guitar with its own sound and its own voice."
This album grew on me with each listen; the opening track "Bengggg" makes a striking entrance with sounds recalling church bells heard in the distance and harps borne on the wind. There is a lot of reverb with the fading sound modulated. Koto style string bends over high energy 12 string strumming make this a colourful and unusual piece.
"Lonely Coyote" follows with double tracked baritone guitar, repeated tense chords and modal melody. Then "Chorineke" features nylon strung guitars, a restless melody over an energetic vamp. "In my arms" is solo steel strung guitar with compression, a folk like melody and beautiful playing.
With "Bali Rain" the sound is reminiscent of Pat Metheny's "One quiet night" album. "Prelude to guitarlab" is short and sweet with harmonies rising and falling like a series of question marks. "Guitarlab" follows with percussive playing and blocks chords over a pedal note, reminding me of William Walton's "Bagatelles" for solo guitar. The long reverb seems a little intrusive, even compared to Julian Bream's spacious recording of the Walton.
The final five tracks of the album were the ones I enjoyed most, perhaps because they seem a more intimate expression of van Vugt's individuality; "Simiane"  has nylon strung guitar offering some enthralling latin syncopation. "Tea" is a solo for 12 string, very much in the Towner vein with clever harmonies, reverse reverb effects and subtle electronics, complex and enthralling. "Sunny side up" starts with Spanish flavoured solo lines then moves into driving syncopated riffs in 6/8 time featuring five different guitars. It finishes too soon!
"For those I love" is free tempo, reflective and heartfelt solo guitar then "No worries" moves uptempo with hints of Gypsy jazz and ragtime, all single lines with the elegance of Bach's solo violin music - quite an achievement.
The strengths of this album are superb playing which never tries too hard to be virtuosic and a feeling of improvisation, with excellent compositions throughout. Despite the high quality guitars and studio, for me the recorded sound is not ideal. Comparing it to work in the same territory by Metheny and Towner there is less low end energy (even when using a Guild acoustic bass) and more reverb - a matter of taste of course but it sometimes makes the sound muddy; better with hi-res files than mp3 but still not as good as the music deserves.
© Stephen Godsall

Featured guitars
Guild F512 1978 twelve-string guitar (1, 10, 11)
Lowden 2011 baritone steel string guitar (2)
Mariano Conde 2011 nylon string guitar (3, 9)
Martin 000-21 1946 steel string guitar (4, 7, 8, 11, 12)
Levin 325 1960 acoustic archtop guitar (5)
Lowden O32 1990 steel string (6, 11)
Tacoma P1 Papoose 1998 six-string alto guitar (11, 13)
Guild B4CE 1993 acoustic bass guitar (11)
Prepared harp zither (1)

Tracklist
1.    Bengggg
2.    The Lonely Coyote
3.    Chorineke
4.    In My Arms
5.    Bali Rain
6.    Onnozele Kinderen
7.    Prelude (to Guitarlab)
8.    Guitar Lab
9.    Simiane
10.    Tea
11.    Sunny Side Up
12.    For Those I Love
13.    No Worries