Marc Copland - And I Love Her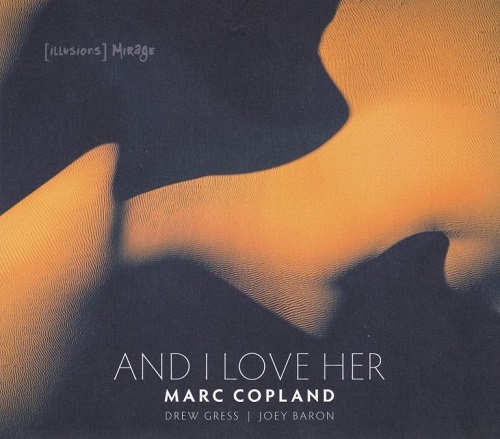 M
(illusions) Mirage IM 2019
Marc Copland (71) kennen we van zijn solo-albums en natuurlijk ook van zijn samenwerking met Robin Verheyen (When The Birds Leave) en de jongste jaren vooral van de releases voor het label Pirouet en nog de bijzondere opnames met John Abercrombie.
Copland vormde met bassist Drew Gress en drummer Joey Baron de ritmesectie van Abercrombie die in augustus 2017 overleed. Deze performance speelde in diezelfde periode. Naast standards (Afro Blue, Cantaloupe Island, And I Love Her, You Do Something To Me) namen ze Love Letter van Abercrombie, aangevuld met eigen werk van de bandleden.
Het album opent met Mongo Santamaria's Afro Blue wat later door John Coltrane werd vereeuwigd en op het album verkeerdelijk als credit aan de saxofonist werd toegewezen en nadien verbeterd. "We were warming up," vertelt Copland in de perstekst, "and as so often happens, Joey started a groove, in this case a 6/8 thing....and I heard 'Afro Blue' in my head, which I'm not sure I'd ever played before." Copland had dus Coltrane's versie in zijn hoofd.
Copland tekent in dit album voor een nieuwe compositie (Might Have Been) en het al eerder van het album Better By Far (InnerVoiceJazz, 2017) bekende Day And Night, toen ook met Drew Gress en Joey Baron en bovendien met Ralph Alessi op trompet. Het trio schittert hier in een prachtig uitgesponnen versie (10:41) met een glansrol voor zowel bassist Gress als drummer Baron.
Het titelnummer And I Love Her van Lennon/McCartney en het prachtige Love Letter van John Abercrombie vormen samen met Day And Night het hart van dit album met het hoog gevoelige toucher van Copland en de subtiele accenten van de ritmetandem.
Na een collectieve improvisatie in Mitzi & Jonny sluit het concert af met Cole Porter's You Do Something to Me. Dat swingt heel fijntjes de nacht in.
Copland werpt zich met dit trio eens te meer op als een geduchte meester-in-jazztrioland. En daar komt vast nog wel meer van!
© Bernard Lefèvre



Musici:
Marc Copland (piano)
Drew Gress (bas)
Joey Baron (drums)