Manuel Valera Trio: The Seasons (C. Loxhay)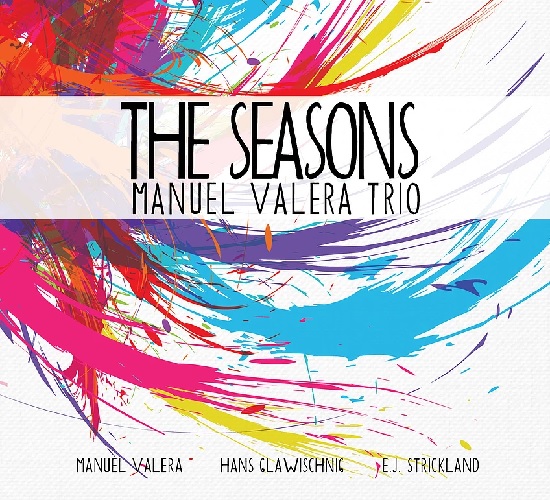 M
Mavo Records/ Distrijazz
Né à La Havane en 1980, le pianiste Manuel Valera s'est installé à New York en 2000, côtoyant des musiciens comme les "latinos" Arturo Sandoval ou Paquito D'Rivera, mais aussi les saxophonistes américains Chris Potter et Mark Turner.
Il a fondé son New Cuban Express en 2012, avec des musiciens cubains comme Yosvani Terry (sax), Ludwig Afonso (dm) ou Mauricio Herrera (perc) et, pour In Motion en 2014, son groupe a accueilli Alex Spiagin à la trompette et déjà Hans Glawischnig à la contrebasse.
Après Live at Firehouse de 2015, voici son deuxième album enregistré en trio.



A la contrebasse, Hans Glawischnig: né en Autriche, il a étudié au Berklee College, a joué avec Hal Crook, James Moody, Paquito D'Rivera et David Sanchez.
A la batterie, E.J. Strickland, le frère du saxophoniste Markus Strickland. Issu de la New Scholl de New York, il a joué avec Ravi Coltrane, Rick Margitza, son frère Markus et, comme Glawischnig, avec David Sanchez. Avec son frère Markus, il a enregistré In this Day et The Undying Spirit.
S'il reste un héritage de latin jazz, comme dans le bolero Tres Palabras d'Osvaldo Farres ou certains ostinatos introductifs de Opening, le jeu de Valera, galvanisé par une rythmique vigoureuse, s'inscrit totalement dans un courant "jazz moderne contemporain" qui irait de Mc Coy Tyner à Gonzalo Rubalcaba. C'est le cas de Opening, de sa version enlevée de What is this thing called love de Cole Porter ou pour In the eye of the beholder dont le tempo s'enflamme au fur et à mesure. Mais il est aussi à l'aise dans les ballades, que ce soit sa composition Hopeful ou sa version de In my Life des Beatles (à l'image du Imagine de Lennon joué par Rubalcaba).
Sur les  mouvements de sa suite The Seasons, on notera la forte présence de la contrebasse (Spring, Summer, Winter) et le rythme tournoyant de Fall.
Un parfait équilibre entre héritage d'un latin jazz aux tempos enjoués et du jazz contemporain.
Claude Loxhay