Manu Codjia / Giuseppe Millaci / Lieven Venken – Phases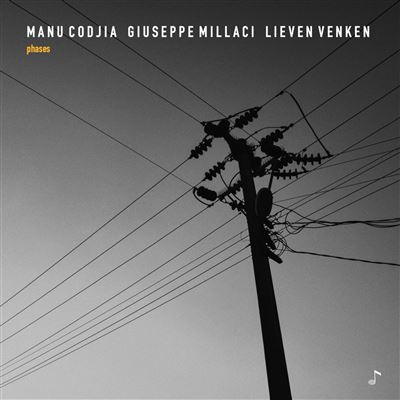 M
Hypnote Records
Voici un trio qui, sur papier, pouvait paraître improbable.
A la guitare, le Français Manu Codjia, formé au CIM puis au Conservatoire de Paris où il croise Marc Ducret. Il a fait partie de l'Orchestre National de Jazz dirigé par l'Italien Paolo Damiani, du trio de Matthieu Donarier comme du quintet du tromboniste Gueorgui Kornazov. Il est un des musiciens les plus sollicités en France: "Baby Boom" de Daniel Humair, "Monomania" de Christophe Monniot, "Ladyland" d'Erik Truffaz, "Hommage à Parker" avec Géraldine Laurent, et, en parallèle, l'un des piliers de plusieurs formations d'Henri Texier, du Strada Sextet au Concert Anniversaire de label Bleu à Amiens, en compagnie de Michel Portal. "Manu c'est le musicien, à part mon fils Sébastien, que je sens le plus proche de mon univers, l'un des plus grands musiciens que je connaisse" (H. Texier). A son nom; Codjia a enregistré "Songlines", avec Daniel Humair et François Moutin, un album en trio guitare-contrebasse-batterie, comme ici.
Italien d'origine, Giuseppe Millaci s'est installé en Belgique dans les années 2000, étudiant la contrebasse avec Jean-Louis Rassinfosse à Bruxelles et Philippe Aerts à Maastricht, ce qui explique son tempérament lyrique exacerbé. Il a fondé le Vogue Trio, avec le pianiste français Amaury Faye ("The endless way, "Songbook") et a rejoint le quartet du ténor Franck Delplancq.
A la batterie, Lieven Venken qui a étudié avec Dré Pallemaers puis Billy Hart à New York. Il a fait partie du quartet de Sal La Rocca ("Shifted"), a accompagné la chanteuse d'origine sud-africaine Tutu Puoane ("Breathe", "Quiet now") et Manu Hermia ("Rajazz"). A son nom, il a enregistré "Bubbles".
Les trois compères se sont bien impliqués dans le projet. Le titre "Phase", réparti en trois parties, a été composé par les trois compères, Manu Codjia a écrit "Al Blade", Lieven Venken signe deux titres au tempo vigoureux, "Stingy Blues" et "Frozen Boots" et Giuseppe Millaci a composé "Turn Over". Enfin, deux classiques, "How my heart sings" très apprécié par Bill Evans et "My one and only love", complètent le répertoire.
Une des originalités du projet est de marier les sonorités ondoyantes de la guitare électrique à la ligne claire de la contrebasse acoustique sous l'impulsion vive de la batterie ("Phase I", "Al Blade", "Phase III"). Le tempo est souvent vigoureux ("Stingy Blues", "Turn over", "Frozen Blues" introduit par la batterie) mais parfois plus serein ("Al Blade", les deux classiques).
Codjia use parfois de sonorités saturées, avec effets ("Phase II") mais se montre beaucoup apaisé dans les classiques "How my heart sings", avec une belle intro de contrebasse ou "My one and only love".
Un projet parfaitement abouti: ces trois-là se sont parfaitement "trouvés".

© Claude Loxhay