Lucky Dog - Live at the Jacques Pelzer Jazz Club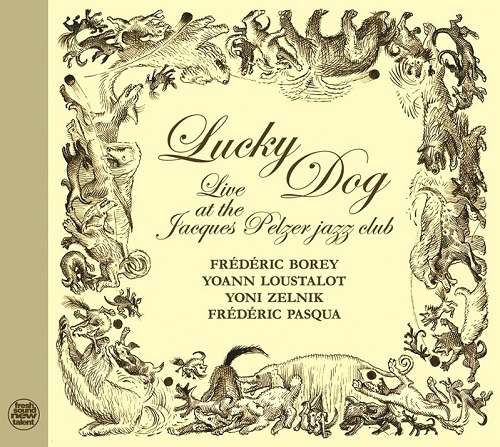 L
Fresh Sound New Talent
Le saxophoniste Frédéric Borey et le trompettiste Yoann Loustalot se sont rencontrés à Bordeaux en 2008 avec le projet de revisiter des standards de manière originale.
Le premier, diplômé des Conservatoires de Nancy et Paris, va enregistrer de nombreux albums, notamment au sein de l'Unitrio, avec Damien Argentieri à l'orgue (album Picasso) ou Wink avec le guitariste Michaël Felberbaum.
Le second, diplômé du Conservatoire de Bordeaux, fait partie du trio Aérophone (dernier album avec Glenn Ferris en invité) et a multiplié les albums avec le pianiste François Chesnel (dernier album en date Old and new songs, avec Christophe Marguet à la batterie).
En 2013, ils fondent Lucky Dog, un quartet dédié à des compositions originales.
A la contrebasse, Yoni Zelnik, musicien d'origine israélienne établi à Paris depuis 1995. Il fait partie du trio de François Chesnel et on l'a vu au festival Jazz à Liège au sein du quartet de Géraldine Laurent. A la batterie, Frédéric Pasqua qui a d'abord suivi des études de percussions classiques avant de se tourner vers le jazz: il a côtoyé le guitariste Louis Winsberg et la saxophoniste Sophie Alour. Il vient d'enregistrer avec le guitariste Simon Martineau (album One).



Comme le premier album sorti en 2014, ce Live at the Jacques Pelzer Jazz Club comporte dix compositions originales, cinq écrites par le saxophoniste, cinq par le trompettiste, soit 76 minutes de musique dense, basée sur une interaction constante entre les quatre musiciens, ce qui en concert se marque par un évident plaisir de jouer. A l'exception de deux compositions plus courtes, des plages de 7 à 9 minutes qui laissent à chacun l'espace de s'exprimer à l'envi.
L'optique est résolument celle d'un jazz contemporain, aux accents post-bop à certains moments (The Game) mais mâtiné de références à Old and New Dreams, le quartet de Dewey Redman et Don Cherry des années '80 et à l'harmolodie chère à Ornette Coleman: trompette et saxophone ténor se répondent en jouant simultanément le même thème mais à des hauteurs et tonalités différentes. La dernière plage, Old and New, avec ses courtes phrases entrecoupées par les ponctuations énergiques de la batterie est révélatrice de ce respect voué à une époque liée au free jazz et son interactivité constante.
La plupart des compositions reposent sur de nombreuses alternances de rythmes qui sont amorcées par la contrebasse et la batterie (Knock Knock, Manzana Mood, Faits divers, Waterzooï suite avec intro de la contrebasse jouée à l'archet ou ce Wake up panda! introduit par les pizzicati de la contrebasse et joué au soprano.
Un vrai travail d'équipe et d'échanges multiples entre musiciens. Un album pour collectionneurs: vous connaissez beaucoup de disques enregistrés à Liège par des musiciens français de renom pour un label espagnol? L'Europe du jazz existe bel et bien.
© Claude Loxhay
Article également publié sur jazzaroundmag.com