Lee Konitz & Walter Lang Trio: Someone To Watch Over Me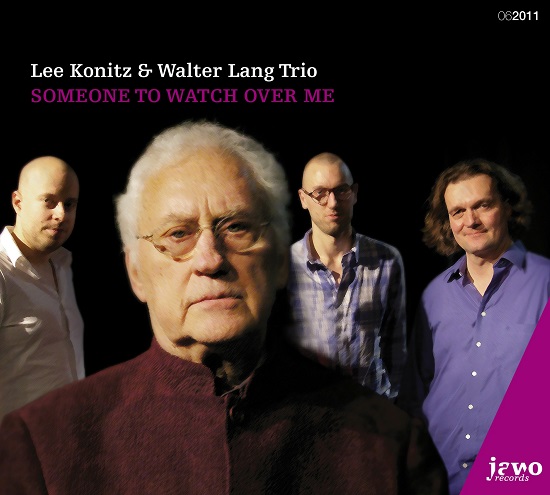 L
jawo records, JAW010
Das vorliegende Album, live eingespielt in der Alten Feuerwache (Mannheim), gründet auf eine langjährige Zusammenarbeit: Bald nachdem Walter Lang im Jahre 1997 Lee Konitz bei einem Workshop kennengelernt hatte, spielten sie ihr erstes gemeinsames Konzert. "Schon damals hat mich tief beeindruckt," – erzählt Walter Lang – "wie er bereits im ersten Stück eine Interaktion mit dem Publikum aufbaute – er spielte ein Duo – zuerst mit den Zuhörern, dann mit dem Bassisten, dem Drummer und zuletzt mit mir. Schon bei diesem ersten musikalischen "Aufeinandertreffen" war es für mich eine neue und inspirierende Erfahrung, wie sehr Lee uns Allen zuhörte und sich auf jeden Einzelnen musikalisch einließ."
Lee Konitz ist auch ein Methusalem des Jazz, der schon mit Stan Kenton und Gerry Mulligan auf der Bühne stand. Auch mit Charles Mingus war er unterwegs. In Deutschland spielte er 1968 mit Attila Zoller und Albert Mangelsdorff, in Italien mit Solal (1968) oder
Enrico Rava (1968). Dieses Urgestein ist nun mit dem Walter Lang Trio zu hören, zu dem neben dem Pianisten Walter Lang der Bassist Thomas Markusson und der Schlagzeuger Sebastian Merk zu hören sind.
Zumeist gibt Lee Konitz am Altsaxofon auf diesem Album den Ton an, und das nicht nur bei "Someone To Watch Over Me". Zu hören ist dabei Straight Ahead Jazz vom Feinsten. Hoher Wiedererkennungswert ist dabei garantiert, nicht nur beim ersten Stück, das man als elegisch kennzeichnen könnte. Der Beifall des Publikums ist bei den Aufnahmen stets auch der Gradmesser dafür, dass derartige Musik beim anwesenden Publikum ankommt. Das war in der Alten Feuerwache in Mannheim stets der Fall.
Groß ist der Wiedererkennungswert auch bei "Autumn Leaves" und "All The Things You Are". Dabei scheinen zwar stets die Melodielinien durch, doch durch die jeweiligen Phrasierungen der Standards erhalten diese auch ein neues Klangbild. Allerdings ist dieses jenseits von ausschweifenden Improvisationen. Auffallend ist die Tatsache, dass sich Bass und Schlagzeug in den Arrangements auffällig zurückhalten. In "Autumn Leaves" bestimmt das Altsaxofon in den Händen von Lee Konitz die Farbtemperatur des Klanges. Dabei klingt das Instrument bisweilen so, als wäre es ein Tenorsaxofon. Zur Melodielinie wirbelt Sebastian Meck an seinem Schlagwerk. Beim Hören der herbstlichen Weise kann man sich fallen lassen und vor seinem geistigen Auge die verfärbten Blätter erscheinen lassen, die der Herbstwind von den Bäumen schüttelt. Nach den Standards "I Fall In Love Too Easily" und "East of the Sun" erklingt dann "All The Things You Are"!
Nicht zu überhören sind bei den Standards der Duktus des Trios und das gesetzte flotte Tempo, das sich von anderen bekannten Einspielungen schon deutlich abhebt. Eine gewisse Lethargie ist allerdings bei "I Fall In Love Too Easily" zu spüren und man möchte gerne wissen, wie denn der Komponist Jule Styne das Stück angelegt hat. Von seinem brillanten Spiel hat Konitz trotz seines Alters nichts eingebüßt. Davon kann man sich bei der Einspielung von "All The Things You Are" besonders überzeugen. Dabei gehört Konitz in dieser Komposition von Jerome Kern die tonangebende Stimme. Mit "The Way You Look Tonight" endet die musikalische Reise durch einen Teil des American Songbooks, auch wenn Standards wie "Jump Monk" oder "My Funny Valentine" diesmal nicht zu hören sind. Wie wäre es denn eigentlich, wenn man mal die Originale mit den Arrangements auf einem Tonträger gegenüberstellen würde?
© ferdinand dupuis-panther
Press release by jawo records
Walter Lang says in the liner notes: "Soon after I met Lee Konitz during a workshop in 1997 we gave our first concert together. Even then, in his first tune - a duo number - I was deeply impressed by how he built up an interaction with the audience, first communicating with his listeners, then with the bass player, the drummer and lastly with myself on piano. This first musical "confrontation" of ours was a new and inspiring experience for me: the way Lee listened closely to each musician and responded to each of them with his music. Today 14 years later, after a duo album and many concerts, this special communicative attentiveness can be heard in our live recording. Not until we were on the way to the concert did Lee have the idea of concentrating on the themes for this album and only playing a few variations on them. This idea bore fruit – listen for yourself!"
Informationen
Label
www.jawo-records.com
Musiker