Lucian Ban Elevation - Songs from Afar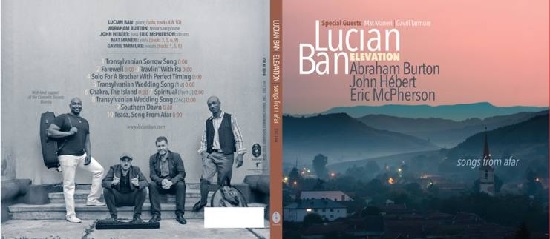 L
Sunnyside
Pour ceux qui auraient découvert Lucian Ban en duo avec Mat Maneri lors du dernier festival Jazz!Brugge, en octobre 2014, une précision s'impose: cet album n'a rien à voir avec la musique assez cérébrale (très ECM) du concert brugeois.


Petit retour en arrière sur la personnalité du pianiste d'origine roumaine. S'il a grandi à Teaca, petit village de Transylvanie, Lucian Ban a d'abord poursuivi ses études de piano à la Bucarest Music Academy, de 1992 à 95, avant de s'envoler, en 1999, pour New York où il a formé notamment un quartet avec Bob Stewart.
Fidèle à la musique de son pays d'origine, il a enregistré "Enesco re-imagined" en compagnie de Ralph Alessi (tp), Tony Malaby (ts), Mat Maneri (vl alto), Albrecht Maurer (vl) et déjà John Hébert à la contrebasse. Avec Mat Maneri, il a aussi enregistré "Transylvanian Concert" en duo, pour ECM en 2013 et, en 2014, "Fantasm" en trio avec Albrecht Maurer.
Mais parallèlement, il a enregistré "Mystery" avec le quartet de base de ce "Song from Afar", soit Abraham Burton au ténor, John Hébert à la contrebasse et Eric Mc Pherson à la batterie, trois musiciens expérimentés de la scène américaine. Abraham Burton a fait partie notammment du Mingus Big Band et joué avec Jack Walrath. John Hébert est très sollicité par les pianistes: Fred Hersch, Uri Caine ou Benoît Delbecq. Quant à Eric Mc Pherson, il a notamment accompagné Jackie McLean, Fred Hersch et Andrew Hill.
Pour 5 plages sur dix, Mat Maneri se joint au quartet: fils du saxophoniste Joe Maneri, il a souvent joué avec des musiciens d'avant-garde tels Matthew Shipp, David S. Ware, Ivo Perelman ou Assif Tsahar. Enfin, le chanteur Gavril Tarmure reprend, pour sa part, des chants traditionnels (Transylvanian Sorrow Song, et deux versions de Transylvanian Wedding Song), enfin, deux compositions très nostalgiques sont jouées en solo (Solo for a Brother with perfect timing, Teaca, a Song from Afar).
Dans un parfait équilibre entre lyrisme mélodique et pulsion rythmique, le répertoire fait alterner de belles ballades au climat nostalgique (Transylvanian Sorrow Song, Farewell, Chakra the island, Spiritual) avec des compositions au tempo nerveux (Travlin' with Ra), parfois avec un ténor au souffle coltranien (Transylvanian Wedding Song I) ou un relent de blues (Southern dawn).
L'accord entre saxophone et violon alto, en constant contrechant, est parfait et les envolées du piano sont bien soutenues par une rythmique infaillible.

Claude Loxhay