Luca Pedeferri Contemporary Project – Exultation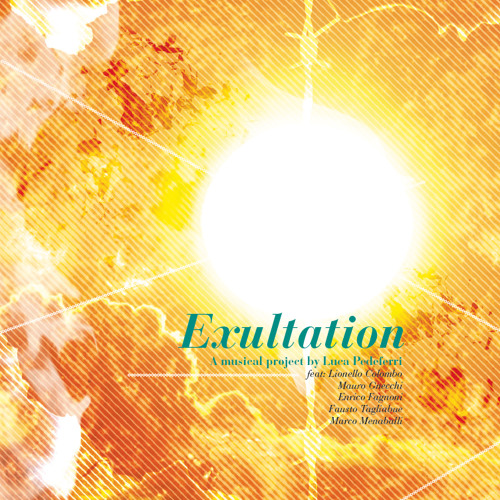 L
Setola Di Maiale
De Italiaanse pianist en componist Luca Pedeferri houdt eraan zijn grote voorbeelden in de kijker te plaatsen. Nadat hij de focus richtte op de Russische Galina Ustvolskaya is nu de polyvalente en vooruitstrevende Amerikaanse componist en theoreticus Henry Cowell aan de beurt.
Voor dit eerbetoon selecteerde Pedeferri tien pianostukken uit Cowell's prille beginperiode (1914-1930). Voor de uitvoering deed hij (opnieuw) beroep op de leden van zijn Contemporary Project: Lionello Colombo (tenorsaxofoon), Enrico Fagnoni (contrabas), Mauro Gneechi (drums, percussie), Marco Menaballi (electronics, turntables) en Fausto Tagliabue (trompet, flugelhorn).
Krachtige uitroeptekens van trompet en piano gelden als een eerste kennismaking. Tot hieruit plots een walsje ontstaat. Goochelende improvisators of improviserende klankgoochelaars? Het vervolg blijft even onvoorspelbaar over heel de lijn. 'The Hero Sun' begint met korte stroomstoten van een saxofoon en daarbij op de achtergrond een dreigend geluidsdecor. Er worden wat sciencefiction effecten aan toegevoegd en plots schalt er een heuse band door de luidsprekers met ritmesectie en blazers. Geen klassieke jazzband wel te verstaan. Eerder een gezelschap dat ook al eens luistert naar Mostly Other Peolple Do The Killing of FES. De broze outro krijg je er zomaar als toemaatje bij.
'The Banshee' begint als een soundtrack die bij de Japanse horrorfilm 'Ringu' ('The Ring') past. Huiveringwekkend zonder expliciete clichés, wel met Pedeferri op accordeon en trompettist Tagliabue die de meest gekke capriolen uithaalt. 'Fabric' is een heel poëtisch interludium met trompet en piano. 'The Tides Of Manaunaum' lijkt daarbij aan te sluiten maar al snel ontspoort alles en verdwaal je als luisteraar in de meest spannende decors, Fritz Lang's 'M - Eine Stadt Sucht Einen Mörder' waardig. Humor, acoustics en electronics kruisen elkaar in 'Anger Dance'.
Nummer na nummer geraak je verstrikt in een web van situaties waaruit geen ontkomen mogelijk lijkt. Decadentie en spanning worden genadeloos aan elkaar gekoppeld. Tonaal, atonaal en polyritmiek wisselen elkaar af in een ondoorgrondelijke volgorde. Pedeferri en zijn kompanen bieden uiteindelijk toch telkens een uitweg en zorgen voor een goede afloop. Hoe ze daartoe komen, blijft aanvankelijk een raadsel. Gelukkig is er de "repeat" knop om telkens te herbeginnen tot je hun werkwijze ontcijferd hebt. Henry Cowell (1897-1965) zou tevreden zijn met dergelijk eerbetoon. Zijn statement "I believe in music: its spirituality, its exaltation, its ecstatic nobility, its humor, its power to penetrate to the basic fineness of every human" wordt hier op passende wijze verklankt.
Een uiterst intrigerende kruisbestuiving tussen modernistisch klassiek, improvisatie en jazz. Absolute aanrader voor fans van Octurn en natuurlijk Charles Ives en Morton Feldman. De 4/4 RE-mix van de titeltrack kan zelfs uitgroeien tot een heuse dance hit.
© Georges Tonla Briquet