Longboard – Being Wild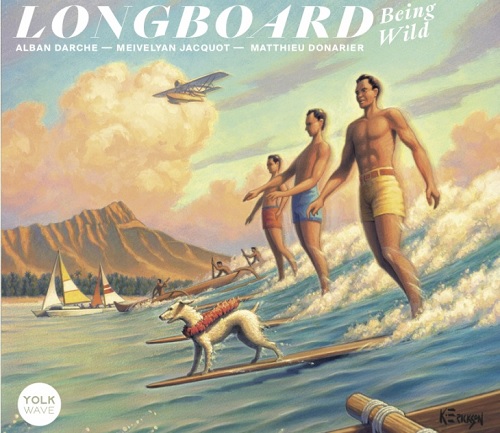 L
Yolk
Aan de prachtige pastelkleurige vintage hoes met surftafereel zou je kunnen afleiden dat Alban Darche, Matthieu Donarier en Meivelyan Jacquot zich outen als de nieuwe Beach Boys. Niets is echter minder waar.
Om maar meteen alles duidelijk te stellen, het trio neemt de luisteraar mee op een muzikale roadtrip maar niet naar de hedonistische surfkusten van Californië of Hawaï. Het is eerder een hobbelig parcours dat het trio hier aflegt. Enigszins te verwachten gezien het verleden van de drie. Saxofonist, klarinettist en toetsenist Alban Darche kennen we van bij Sacre du Tympan, Thomas de Pourquery, JASS en tevens van zijn inzet als labelbaas van Yolk Records. Matthieu Donarier is de tweede saxofonist en klarinettist van dienst. Hij musiceerde bij onder meer Le Gros Cube, Caratini Jazz Ensemble, Jon Irabagon en Marc Ducret. Meivelyan Jacquot tenslotte is de drummer die tevens gitaar speelt en zich uitleeft met electronics. Hij verdiende zijn strepen reeds in film- en theatermiddens maar ook in jazz en rock. Kortom drie muzikale kameleons.
'Being Wild' is een gestileerde evenwichtsoefening. Ergens dus toch die link met surfen. De drie heren zoeken voortdurend de balans tussen extreem uiteenlopende stijlen. Met een ongelooflijk "je m'en foutisme" koppelen ze kubistische rock aan funky grooves om verder te gaan met meer contemplatieve passages. De zwierige stereo-effecten krijg je er overal zomaar bij.
Zelf omschrijven ze het met trefwoorden als "minimalism" en "travel coolitude". Een van hun titels is 'Boite À Musique' en weerspiegelt evenzeer de inhoud. Ergens tussen The Temperance Seven, Spike Jones en Yann Tiersen.
© Georges Tonla Briquet





Musici:
Alban Darche: saxofoons, klarinet, toetsen
Matthieu Donarier: saxofoon, klarinet
Meivelyan Jacquot: drums, gitaar, electronics

www.yolkrecords.com
www.meivelyan.com
www.matthieudonarier.com
www.albandarche.com