Longboard - Being Wild (CL)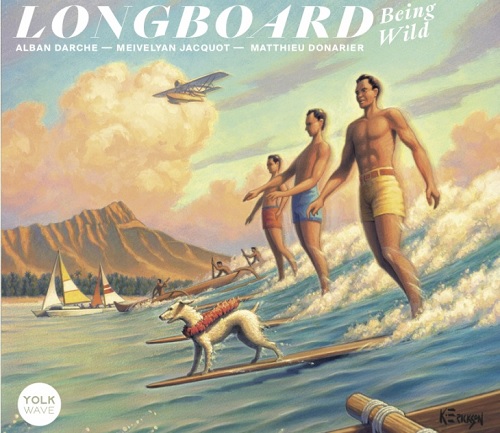 L
Yolk / L'AutreDistribution
Le saxophoniste Alban Darche aime multiplier les formations: le Gros Cube et ses 17 musiciens (album La Martipontine, avec notamment Laurent Blondiau), Trumpet Kingdom avec ses trois trompettistes, Jass avec Samuel Blaser, Stringed avec le guitariste Gabor Gado, L'Orphicube avec la chanteuse Chloé Cailleton.
Comme le suggère la pochette de Longboard, il aime aussi "surfer" sur les styles musicaux: le Gros Cube prend des allures de big band déjanté, Stringed est largement dédié aux cordes (violons, violoncelle) et L'Orphicube évoque les bals populaires.
Voici une nouvelle équipe Longboard: Alban Darche aux saxophones, à la clarinette et au clavier, le fidèle Matthieu Donarier aux saxophones et à la clarinette et Meivelyan Jacquot qui jongle entre guitare, batterie et électronique, pour 14 compositions originales.
Dès les premières plages, on se dit que les trois compères ont eu largement recours au re-recording pour superposer les instruments. Mais non. La pochette précise: "enregistré dans les conditions du direct sans re-recording".
Un petit passage par You Tube explique la "performance".



Tandis que le saxophone alto d'Alban Darche dialogue avec le ténor de Matthieu Donarier, Meivelyan Jacquot allie guitare et batterie à l'aide de son dispositif électronique (Roamap) ou alors batterie et effets électroniques (Freeride); parfois Darche délaisse son saxophone pour quelques notes de clavier (Boîte à musique). Parfois, c'est une clarinette ou un soprano (BEP) qui prend le dessus.
Des mélodies simples qui permanent dans l'oreille (Boîte à musique, Embrace the grace avec ses deux saxophones et une guitare "apaisée") alternent avec des déferlements de saxophones et de guitare aux accents rock (Beauty and sadness II).
© Claude Loxhay