Linx-Ceccarelli-Goualch-Imbert - 7000 Miles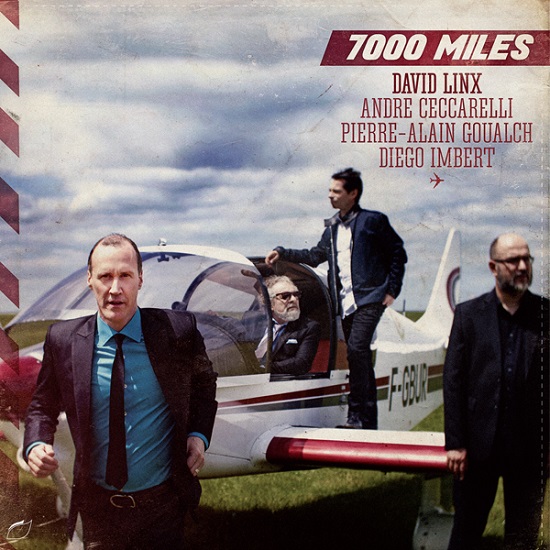 L
Sound Surveyor Music (2017)
Dit kwartet groeide uit een samenwerking van David Linx met het Ceccarelli trio in een eerbetoon aan Claude Nougaro, gestart in 2009 als Le Coq et la Pendule (Plus Loin Music) en gevolgd in 2013 met àNOUsGARO (Just Looking Productions). Na meer dan 150 concerten voelde het kwartet zich rijp om een nieuwe en originele uitdaging aan te gaan.
Naast enkele klassiekers in een aangepast arrangement van Ceccarelli (Dock of the Bay) en van Pierre-Alain Goualch (Night and Day) gaat David Linx terug in de tijd met The Promise of You dat hij samen met Ivan Lins schreef, al van 1991 en nooit eerder door hem opgenomen, en A Fool To Never Know van Daniel Goyone uit 1998, waarin David zich voor de tekst inspireerde op de liefde die ieder van ons in zich heeft en we gek zouden zijn die niet te (h)erkennen. Distortions – met groovy fenderklanken –  roept herinneringen op aan zijn mentor James Baldwin.
Het titelnummer 7000 Miles is van Ryuichi Sakamoto met poëzie van David Linx, waarin hij mijmert over de wereld. Diego Imbert reikt de muziek aan in From One Family To Another met overpeinzingen van Linx rond familiale toestanden. America schreef David (op muziek van pianist Pierre-Alain Goualch) nog voor Trump aan de macht kwam en met een eigen kijk op dat zogezegde droomland. Met Poses covert hij nog een song van Rufus Wainwright, zoals hij zelf vertelt: "een perfect juweel van songwriting, een lied dat ik graag zelf had geschreven."
Met het album 7000 Miles neemt toonaangevend jazzvocalist David Linx met zijn authentieke stem, opmerkelijk talent als woordkunstenaar en topklasse copiloten een hoge vlucht met muzikaal stralende horizonten. Mijn favoriete nummers: A Fool To Never Know en 7000 Miles.
© Bernard Lefèvre – januari 2018


David Linx (vocals)
André Ceccarelli (drums)
Pierre-Alain Goualch (piano, Fender Rhodes)
Diego Imbert (contrabas)