Lieven Venken / Rene Hart / Anat Fort Trio - Bubbles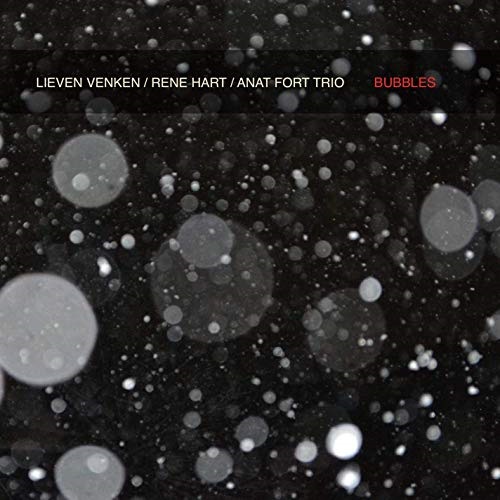 L
Hypnote
La musique prend-t-elle des rides avec le temps? Pas fatalement, pour preuve cet album.
Le trio s'est formé dans les années 2000, à New York. La musique de l'album date, elle, de 2005. De retour en Belgique, Lieven Venken l'a proposée à Giuseppe Millaci du label Hypnote et voici Bubbles. Anat vit maintenant à Tel Aviv, René toujours à New York et Lieven en Belgique (présentement au sein du quartet de Sal La Rocca).
D'abord attiré par le violon, Lieven Venken a étudié la batterie au LemmensInstituut, avec Dré Pallemaerts. Etabli à New York pendant plusieurs années, il a côtoyé Mark Turner (ts), Claudio Roditi (tp) et Tim Armacost (ts). De retour en Belgique, il a fait partie du sextet High Voltage, avec le trompettiste Nico Schepers du BJO, a enregistré, en 2010, Groove Thing avec Jef Neve (p) et Nicolas Kummert (ts); en 2012, Breathe avec Tutu Puoane; Talking about Mlouk avec Axel Gillain (cb) et, récemment, Shifted avec Sal La Rocca et Jeroen Van Herzeele.
Anat Fort a étudié le piano avec Paul Bley et Harold Mabern. En 1999, elle a enregistré Peel, son premier album, puis A long story, en 2004, avec Perry Robinson (cl), Ed Schuller (cb) et Paul Motian (dm). En 2010, elle a gravé And if, en trio, avec Gary Wang (cb) et Roland Schneider (dm), pour ECM et, en 2016, Bird watching, avec Gianluigi Trovesi, toujours pour ECM.



Pour ce Bubbles, deux compositions d'Anat Fort (Minnesota, Nu), deux de Rene Hart (Lumenesque et Window seat nostalgia), une de Lieven (Bubbles), quatre sont cosignées (Fugue village, Shopping spree, Ervatamia, Fjord safari) et le trio reprend Walking on the moon du groupe Police. Dans une grande tradition du piano-trio, alternent ballades (Minnesota; Nu, avec une belle intro de contrebasse et balais; Ervatamia joué en piano solo; Window seat nostalgia avec jeu subtil de mailloches sur cymbales) et thèmes bourrés de swing (Bubbles, avec intro de contrebasse et batterie; Fugue village, avec des accents sud-américains; Walking on the moon avec des accents free; Shopping spree et Fjord safari.
En vrai trio, la contrebasse est omniprésente et Lieven utilise, à bon escient, toutes les potentialités de sa batterie.
Un vrai trio intemporel.
© Claude Loxhay
Article aussi publié sur jazzaroundmag