LG Jazz Collective - Strange Deal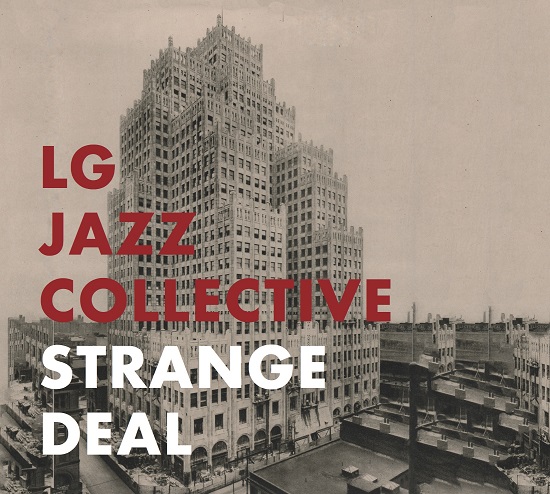 L
Igloo
Comment ce qui ne devait constituer qu'un one shot débouche sur une des formations phares du jazz actuel en Belgique? En 2012, Jazz à Liège propose au guitariste Guillaume Vierset de réunir une série de musiciens liégeois (parmi lesquels Igor Gehenot, Jean-François Foliez, Félix Zurstrassen et Antoine Pierre) pour revisiter des thèmes de célèbres compositeurs de la Cité ardente: Bobby Jaspar, René Thomas et... Grétry.
Guillaume Vierset ne se résoud pas à abandonner le projet: il ouvre le répertoire à d'autres compositeurs belges, comme Nathalie Loriers, Steve Houben ou Pirly Zurstrassen et modifie le line up: LG Jazz Collective salue l'arrivée de Jean-Paul Estiévenart (tp), Laurent Barbier (as) et Steven Delannoye (ts, ss). En 2014, sort un premier album, New Feel, à côté de mélodies de Philip Catherine, Alain Pierre, Eric Legnini et Lionel Beuvens, six compositions originales, certaines au groove énergique comme Positive Mind, d'autres plus apaisées comme The End is always sad.
Voici que sort Strange Deal avec un tout nouveau répertoire original: neuf compositions et arrangements du guitariste hutois, qui a poursuivi ses études au Conservatoire de Bruxelles, avec notamment Fabien Degryse comme professeur, mais aussi au travers de masterclasses avec Philip Catherine ou Kurt Rosenwinkel.



La formation a encore gagné en maturité et en cohésion empathique: Félix Zurstrassen et Antoine Pierre sont présents depuis les début du septet, et ceux-ci retrouvent Jean-Paul Estiévenart et Steven Delannoye au sein d'Urbex. Par rapport à l'équipe de New Feel, deux changements. Aux saxophones alto et soprano, Rob Banken, élève de Frank Vaganée au Lemmens Instituut de Leuven et que Vierset a croisé au sein du Bravo Big Band (album Another Story). D'autre part, Igor Gehenot cède sa place à Alex Koo, jeune pianiste belgo-japonais qui, après une formation classique, a poursuivi ses études jazz à Amsterdam mais aussi à New York où il a formé un trio original avec Mark Turner (ts) et Ralph Alessi (tp): excusez du peu. De retour en Belgique, il a constitué un trio avec Lennart Heyndels (cb) et Dré Pallemaerts (dm).
LG Jazz Collective s'est par ailleurs trouvé un son personnel: sous l'impulsion énergique de la rythmique, trompette et saxophones tissent une trame dense autour des moirures de la guitare.
Guillaume Vierset fait aussi preuve d'un sens aiguisé de l'orchestration au travers de compositions savamment élaborées, au tempo fluctuant, comme ce Opening, ballade dont le rythme s'emballe au fur et à mesure.
S'il reste le principal soliste (beau solo sur Strange Deal; belles intros sur JP's Mood, Goldo ou Home; beau duo guitare-piano sur Sad Walk qui évoque la complicité entre Jim Hall et Bill Evans), Guillaume Vierset sait aussi mettre ses compagnons de route en valeur: solos de trompette (JP's Mood, Home), saxophone ténor (Strange Deal, Standing on the shoulders of giant), saxophone alto (Goldo), soprano (Maëlle), piano (Goldo), contrebasse (Maëlle) et batterie (Oguhara). Un projet parfaitement abouti.
On se réjouit aussi de voir le septet en concert.
© Claude Loxhay

Concerts 2018:
Dinant Jazz Club : 6 janvier
Bruxelles Senghor: 19 janvier
Liège Chiroux: 9 février