Lester's Blues - Blue Label: Radio Rhythm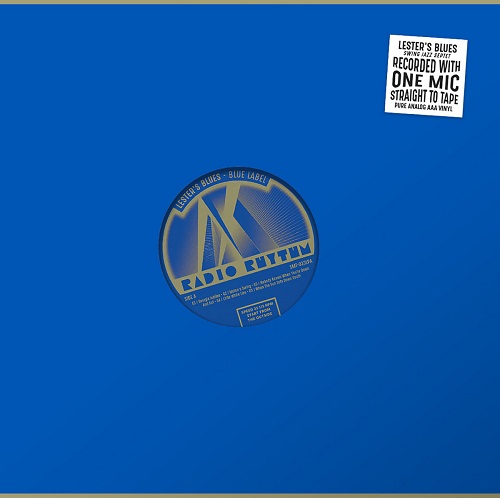 L
Sing My Title
Parler d'ovni en évoquant cet enregistrement serait hors du temps, on parlerait plutôt du « Spirit of St Louis » pour rester dans l'époque.


Inclassable ? Mais c'est exactement l'inverse : on comprend illico d'où vient la musique de « Lester's Blues », un octet + un, plutôt + une, avec la voix de Monique Harcum sur le titre « Nobody Knows You When You Are Out And Down » interprété par Bessie Smith à l'origine.
Une solide rythmique composée de Frederik Van den Berghe aux drums, Sam Gerstmans à la contrebasse, Victor da Costa à la guitare et Luk Vermeir au piano. Et trois souffleurs : David Lukács à la clarinette et au ténor, Tom Callens à l'alto et au ténor, et Dree Peremans au trombone.
On les imagine, comme sur la pochette de l'album, « flûter » une bonne pils au comptoir après l'enregistrement, heureux du résultat, et du bonheur qu'ils vont transmettre avec cet improbable cire. Car il s'agit bien d'un disque, un vrai vinyl 33trs glissé dans une pochette à l'ancienne, quasi vintage, avec une mention spéciale sur la couverture : « recorded with ONE mic straight to tape, pure analog AAA vinyl ». Un produit d'exception, un peu comme l'andouillette. Enregistré dans la même pièce autour d'un seul micro avec les musiciens disposés autour dans une position adaptée au volume de chacun, une seule prise, pas d'edit ! Et qu'on ne se mette pas à douter, il ne s'agit pas d'un travail d'archéologue du jazz, mais bien d'un réel moment de plaisir collectif.
Dix titres qui rassemblent William Count Basie, Benny Moten, Sydney Bechet, Benny Goodman… des compositeurs dont l'octet partage la passion sans nostalgie style « c'était le bon vieux temps », mais juste pour l'amour du jazz. Quant à l'auditeur, il prendra autant de plaisir à taper du pied pendant ces trente-cinq minutes de swing que les musiciens en ont eu à l'enregistrer.
Un regard brillant dans le rétroviseur du jazz.
En concert le 9 juin à De Vieze Gasten à Gent et le 10 à L'An Vert à Liège.
© Jean-Pierre Goffin

https://lestersblues.bandcamp.com/album/blue-label-radio-rhythm