Les Violons de Bruxelles - Barcelone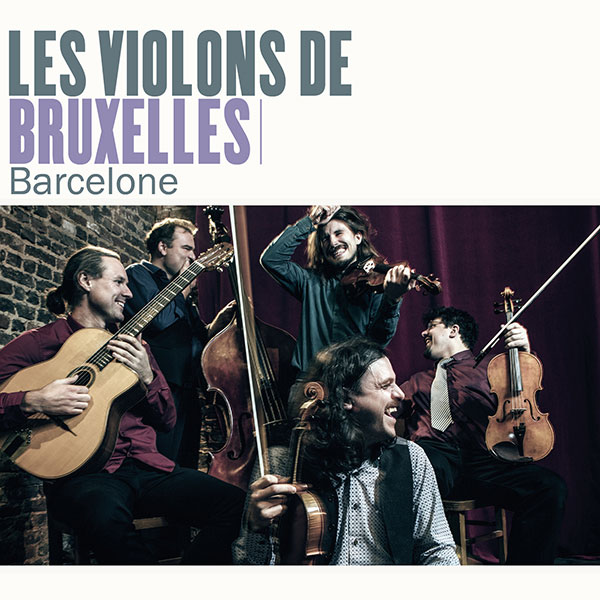 L
Lejazzetal records
Tcha Limberger brengt met Les Violons de Bruxelles een tweede album, Barcelone (naar een compositie van Boris Vian), met het volle elan van zijn originele groep. Dat betekent drie violen (naast Limberger, Renaud Crols en Alexandre Tripodi), gitaar (Renaud Dardenne) en contrabas (Sam Gerstmans). Een eigengereide en brede visie op wat traditioneel refereert aan de Hot Club de France want daar maakten dan wel drie gitaren, viool en contrabas de bezetting uit.
Les Violons de Bruxelles laat zich niet kisten in die vorm en gaat vrijelijk om met innovatieve arrangementen, straffe interactie, virtuositeit en dynamiek. Django blijft inspireren en ze herwerken Back And White, Impromptu en het samen met Grappelli geschreven Sweet Chorus tot frisse lyrische interpretaties. 
Tcha Limberger ontpopt zich overigens als authentiek zanger (zelfs scattend) in Ellington's I've Got It Bad And That Ain't Good. De hechte, mooi gebalanceerde groepssound excelleert verder in jazzstandards: Avalon (Al Jolson), How About You (Burton Lane/Ralph Freed) en het meesterlijk door Sam Gerstmans en Tcha gedreven titelstuk Barcelone (Boris Vian).
De muzikale sfeer slaat vonken met de passende Braziliaanse klassiekers Sempre Teu en Receita de Samba van Jacob do Bandolim en de Mexicaanse standaard La Bikina van Ruben Fuente. En het is helemaal raak met de originele nummers van Tcha Limberger (het weemoedige Patchagonia) en Renaud Dardenne (het melancholische Pixinguinha em Lisboa).
Prachtig hoe deze creatieve geesten van Les Violons de Bruxelles de emoties raken in een kleurrijk spectrum van snaren! Ze hebben het terechte patent op het heruitvinden van de manouche swing met een hedendaags en tijdloos karakter.
Beleef ze live want hun aanstekelijke muziek krijgt volop meerwaarde als alle zintuigen bespeeld worden. (agenda: www.lesviolonsdebruxelles.be)
© Bernard Lefèvre



Musici:
Tcha Limberger – viool, zang
Renaud Crols – viool
Alexandre Tripodi – altviool
Renaud Dardenne – gitaar
Sam Gerstmans – contrabas