Leonardi/Colonna/Bertoni/Blumer/Geisser – Aura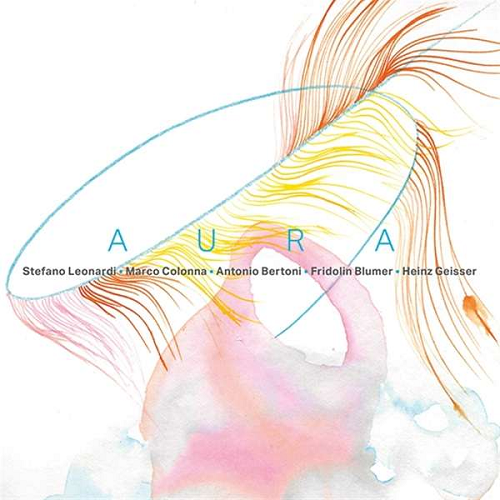 L
Leo Records
Een tweedaagse improvisatiesessie van vijf exponenten uit het veld gereduceerd tot een geheel van drie kwartier. Non-conformisme en ontheemding bepalen de spelregels.
'Aura' is een schoolvoorbeeld van hoe een uitgebreid gegeven te herleiden tot de essentie. De improvisaties op 30 en 31 juli 2019 in de Metro Rec Studio (Riva del Garda) zullen op zich ongetwijfeld unieke momenten bevat hebben. Om dergelijke eenmalige uitwisselingen om te vormen tot tien nieuwe capsules is vast en zeker geen sinecure. Fridolin Blumer en Heinz Geisser stonden in voor de mix. We veronderstellen dat de titels een gezamenlijke beslissing waren. 'Kite', 'Astral Garden', 'Breath', 'Clay', Whirlwind', 'Sand Shapes', 'Pulse', 'Requiem', 'Threads' en 'Afterglow' klinken als kleine proefballonnetjes die opgelaten worden maar ten slotte moet de luisteraar voor zichzelf de sleutel vinden om dit fantasievolle rijk te betreden.
De stukken variëren in lengte tussen anderhalve en zeven en een halve minuut. Elk vormt een microkosmos op zich maar maakt uiteindelijk deel uit van een groter geheel dat aan elkaar hangt door vertrouwde sonorisaties in deze context, gekoppeld aan extreme spielereien. Hoge fluittonen, uiterst omzichtige percussie als van een mikadospel, sticks die schuiven over tromvellen, een hyper kinetische sopraansaxofoon, zijn slechts enkele van de impressies die je hoort. Met een instrumentarium dat onder meer een exotische collectie fluiten, (bas)klarinet, cello, gembri, contrabas en zelfs een waterphone bevat, kom je natuurlijk ver. De creatieprocessen van de vijf leiden tot een aaneenschakeling van krachtvelden zonder strikte afbakening. Het loslaten van vormvastheid was daarbij de rode draad.
Meteen een extra parel in de collectie van dit Britse label dat vorig jaar zijn veertigste verjaardag vierde. "Music for the Inquiring Mind and the Passionate Heart" was en is duidelijk nog steeds de slogan van het huis.
© Georges Tonla Briquet

Musici:
Antonio Bertoni - Cello, Guimbri [Guembri]
Marco Colonna - Clarinet, Bass Clarinet, Sopranino Saxophone [Sopranino Sax]
Fridolin Blumer - Double Bass
Stefano Leonardi - Flute, Piccolo Flute [Piccolo], Reeds [Sulittu], Kaval [Dilli Kaval], Flute [Bass Xun], Launeddas [Launeddas (Mancosedda)]
Heinz Geisser - Percussion, Waterphone